About
I'm into gays because I am bisexual.
Thats very alittle about me. I'm gonna start doing journal enteries. Woo! lawl. Ya but if your looking to hang or wanna be my friend I sugest that you PM me first, just so I can get to know ya.
Oh and I
LOVE RANDOM PMs AND COMMENTS!!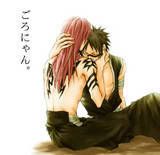 Friends
Viewing 12 of 32 friends
Multimedia
Signature