About
Quilt me! Code is
here
.
Lucca is the self-proclaimed Original Gaian Ferretgirl, and has not yet had any challengers for the title. She is an
expert avatar editor
and an amateur cartoonist, and co-owns
F.A.C.A.D.E.S.
, an avatar editing/roleplay/hangout guild.
Her three greatest passions in life are Star Wars, Chrono Trigger, and the Gaia user known as o Talith o (that's right... sorry, fanboys, but I'm taken).
Friends
Viewing 12 of 71 friends
Journal
Diary of a Ferret
Just the life and times of a ferret-girl. Nothing much. Updates rare.
Multimedia
Signature
Ferret Avatar since December 2003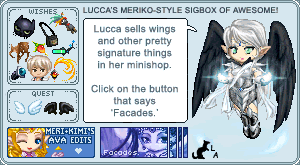 Avatar Edit Shop