About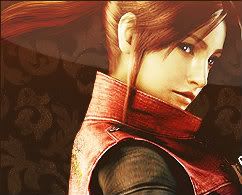 Gonna Make this short and sweet so I don't bore anyone have to death about me. My name is Claire Redfield, and I'm a survivor of the Raccoon city horror. I went into Racoon city looking for my big brother Chris when all hell broke lose and I witnessed first hand the terror and manipulating ways of the Umbrella Corporation. Hundreds died at the hand of the T-Virus that awakened their bodies with the primal instincts to attack and devour the flesh of the living....in other words Zombies. I survived the night with the help of first day Raccoon City police officer Leon Kennedy, but who knew that this would be the beginning of my nightmares.
My other infamous stories involve my capture to Rockfort Prison, where a prison named Steve Burnside and I joined forces to fight the Ashford twins. I finally met up with my brother after we'd been auto-piloted to Antarctica by Alfred Ashord, thought I also had the displeasure of running into Albert Wesker....not exactly a pleasant talk as he tried to use me as bait against my brother. Steve had been killed after being inject by the Veronica virus, his body now in the hands of Wesker.
Other events such as the Harvardville outbreak that was caused my Curtis Miller who had lost his family in the Raccoon incident. A leak of the virus was let out into an airport, the horrors returning as I had been caught in the middle of the mess as my plane landed mere minutes before. Running into Leon along again with Curtis' sister Angela, I as well as other survivors were saved from the massacre of death, only to be trapped in another mess after taking the offer for a look in WillPharma's headquaters...big mistake on my part. I'd been injured by an explosion but had made it out okay. Leon and Angela had taken down Curtis and barely escaped with their own lives but evidence fell in place to reveal Frederic Downing CEO of WillPharma was behind everything. Lucky we arrested him and stopped is blackmarket trade.
As for my future...only time will tell......