About


Thank GOD- high school is finally OVER!

I hate pink and lace.
I like green and black.
I like sushi and anything chocolate.
I like dragons and centaurs.
Jeans are God's second gift to man.
I play a lot of video games.
I read too much.
I love DnD.
I like the smell of rain.
I like chocolate.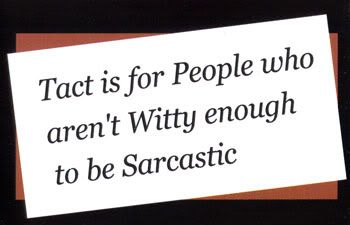 Friends
Viewing 12 of 12 friends
Journal
Boys, Band, and Books, the Life and Times of a Teenage Band Nerd
What happens during the day (because I will never post on the internet what happens at night)
Multimedia
Signature
Phobias of the week:

Arachibutyrophobia- Fear of peanut butter sticking to the roof of the mouth.
Ephebiphobia- Fear of teenagers
Hippopotomonstrosesquippedaliophobia- Fear of long words