Me ,Myself and all the stuff i come up with with my friends
Name::
Francisco(Kiko) LMJ
Age::
17
I live in::
Lajas, PuertoRico
I like to::
Run skateboard,Draw,watch anime,read,Play guitar or bass, I also like acting(im in a Drama club, believe me its cool, i used to say acting was for gay people now im eating my words!)
Stuff to share::
well Im right now at 12th grade*Yahoo, Senior Huaa!* And one of the Original members of the PP Squad!


My dream avatars should look like these


Item List:
Ahhrr!! Poopdeck Britches
Anti-Fashion Aqua-Pink Head Wrap
Arrhh!! Boots
Emperor's Beard
General's Beard
Lawl And Order Belt
Morgana's Gloves
Sunrise R0x0rBilly Vest
White Musketeer Shirt
Help me get these please I want to creat my dream Avatar
Estimated Total: 22,084 Gold
(Estimated with known item values on 17 January 2007)


Can You guess who they are?
Never ...
...Beat your Wookie friend in a video-game!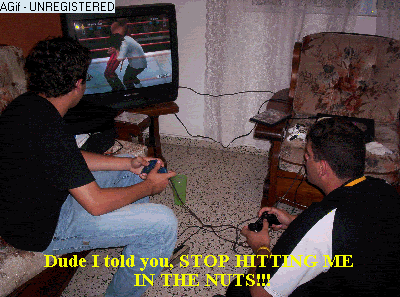 You Are Animal

A complete lunatic, you're operating on 100% animal instincts.
You thrive on uncontrolled energy, and you're downright scary.
But you sure can beat a good drum.
"Kill! Kill!"
The Muppet Personality Test
http://www.blogthings.com/themuppetpersonalitytest/
Your p***s Name Is...

Bavarian Beefstick
p***s Name Generator
http://www.blogthings.com/penisnamegenerator/

What celestial choir do you resonate?
Your Love Element Is Metal

In love, you inspire and respect your partner.
For you, love is all about fusing together for one incredible life experience.
You attract others with wit and a bit of flash.
Your flirting style is defined by making others want and value you.
Greatness and optimism are the cornerstones of your love life.
You may let go too easily, but you never get weighed down by your past.
You connect best with: Earth
Avoid: Fire
You and another Metal element: will control and smother each other
What Element Is Your Love?
http://www.blogthings.com/whatelementisyourlovequiz/