About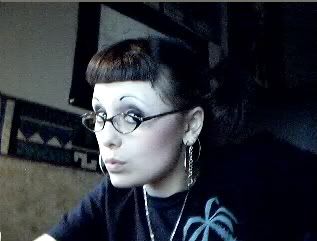 Don't worry, ma'am.
I'm from the internet.
n.

A little elf.
Number 1 fan of the Dragon Army.
All your Highlord Helmets are belong to me.

---
HAI GAIZ, CONTRARY TO POPULAR BELIEF, THE INTERNET IS NOT SERIOUS BUSINESS.
SO STOP ACTING LIKE IT IS AND LIGHTEN THE ******** UP.
I'm a very complex little elfkin.
I was a member of dis here Gaia back in 04.
I just have a tendency to totter off for a while, and then come crawling back.
I love people.
When they aren't being cockthirsty fagots.
I'm 19.
I love video games.
I love my ickle pink DS.
I love large, unwieldy boots.
I love teeny weeny skirts.
I know my s**t.
I love Nintendo.
I love cats.
I love kittens.
I love sushi.
I love Dragonlance.
I live in Canada Land.
And British Columbia is the only province that really matters.
I idolize Gord Downie.
I ******** adore Peter Murphy.
I love these tunes.

45 Grave
Adam Ant
Alien Sex Fiend
Apoptygma Berzerk
Assemblage 23
Bauhaus
Bella Morte
Blind Guardian
Christian Death (Rozz only plz)
Cinema Strange
Combichrist
Das Ich
David Bowie
Duran Duran
Elf Power
Faith And The Muse
Fiendflug
Funker Vogt
Gamma Ray
Grendel
Helloween
Hocico
Icon Of Coil
Joy Division
London After Midnight
Love and Rockets
Massiv in Mensch
Nebula-H
Neil Young
Neuroticfish
Nick Cave
Nightwish
Peter Murphy <3
Psyclon Nine
Rasputina
Red Lorry Yellow Lorry
Rhapsody
Rob Zombie
Rosetta Stone
Rush
Sero.Overdose
Sex Gang Children
Simple Minds
Siouxsie and the Banshees
Sisters of Mercy
Specimen
Stevie Ray Vaughan
Suicide Commando
The Allman Brothers Band
The Cruxshadows
The Doors
The Mission UK
The Tragically Hip
Tom Petty
Tones on Tail
VNV Nation
Velvet Acid Christ
Wumpscut
XP8
XPQ-21
Zeromancer
Zombie Girl

And I'd love it if you left me a comment.

This Elf is quite easily the coolest cat you'll ever meet.
Journal
lolwut
H8 U PHAGGS ♥♥♥ i leik to post picccs olololzzz!!111 no srsly. ;D
Multimedia