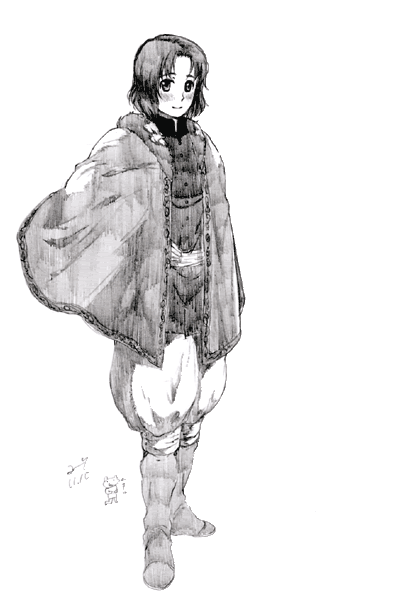 Nation's name:

Lietuvos Respublilka

(Republic of Lithuania. Poland calls him "リト," which is "Liet.&quot wink
Capital:

Vilnius


Language:

Lithuanian


Birthday (Independence from Soviet Union):

February 16th


National flower:

Rue

(personal note: its flower language is "regret&quot wink

Human name:

Toris Laurinaitis


Height:

Unknown


Age:

19

(appearance. The nation will celebrate the millennium in 2009)



バルト三国の兄的存在で、


Exists as the eldest brother of the three Baltic states,



もともとチュートン騎士団の一員 だったがキリスト教に反発しリアニア大公国として独立、


used to be a member of the Teutonic Knights, but established independence as the Kingdom of Lithuania after a rebellion against Christianity



しかしキリスト教化を求めるドイツ騎士団に常に追われる状態に。


but was often pursued by German knights hoping to convert them into Christianity. (Note: Lithuania was the last pagan nation of Europe)



その後ポーランドとの連合王国化で 平和的にキリスト教化。


After that, became a commonwealth with Poland and peacefully converted to Christianity.



しかしポーランド分割で最後まで奮闘するも結局ロシア領にされてしまう。


But was taken over by Russia after a fight over the annexation/partition of Poland.



 お人好しで世話焼きな性格、あとバルト特有の内向さもやはりあるが、慣れるととことん懐いてあれこれしてくれるタイプ。


A good-natured person who likes to take care of people, and even though he has the Baltic attribute of being introverted, is the type who will take one into his heart when he gets used to that person.



ただこういった気を使う性格のせ いか自殺率世界一という実に不名誉な称号を持っている。


But, perhaps it is because of this sort of personality that he holds the infamous record of having the highest suicide rate of the world.



あと格闘技とか文学とか大好き。それと車は絶対中古車。味にはうるさくケチャップやマヨネーズは色 んなフレーバーが売ってて日によって使い分けてたりする


Loves martial arts and literature. Also, his car is definitely a second-hand car. Is particular about taste, and is known to use many flavours of ketchup and mayonnaise in a day.