About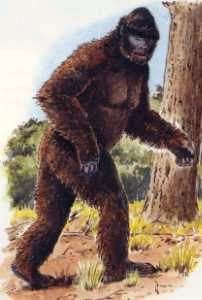 described in reports as a large hairy ape-like creature, in a range of 6–10 feet (2–3 m) tall, weighing in excess of 500 pounds (230 kg), and covered in dark brown or dark reddish hair.Alleged witnesses have described large eyes, a pronounced brow ridge, and a large, low-set forehead; the top of the head has been described as rounded and crested, similar to the sagittal crest of the male gorilla. Bigfoot is commonly reported to have a strong, unpleasant smell by those who claim to have encountered it.The enormous footprints for which it is named have been as large as 24 inches (60 cm) long and 8 inches (20 cm) wide.While most casts have five toes — like all known apes — some casts of alleged bigfoot tracks have had numbers ranging from two to six. Some have also contained claw marks, making it likely that a portion came from known animals such as bears, which have five toes and claws.Some proponents have also claimed that bigfoot is omnivorous and mainly nocturnal.

Bigfoot proponents Grover Krantz and Geoffrey Bourne believe that Bigfoot could be a relict population of Gigantopithecus. Bourne contends that as most Gigantopithecus fossils are found in China, and as many species of animals migrated across the Bering land bridge, it is not unreasonable to assume that Gigantopithecus might have as well.The Gigantopithecus hypothesis is generally considered entirely speculative. Gigantopithecus fossils are not found in the Americas. As the only recovered fossils are of mandibles and teeth, there is some uncertainty about Gigantopithecus's locomotion. Krantz has argued, based on his extrapolation of the shape of its mandible, that Gigantopithecus blacki could have been bipedal. However, the relevant part of mandible is not present in any fossils.The mainstream view is that Gigantopithecus was quadrupedal, and it has been argued that Gigantopithecus's enormous mass would have made it difficult for it to adopt a bipedal gait.

Matt Cartmill presents another problem with the Gigantopithecus hypothesis: "The trouble with this account is that Gigantopithecus was not a hominin and maybe not even a crown-group hominoid; yet the physical evidence implies that Bigfoot is an upright biped with buttocks and a long, stout, permanently adducted hallux. These are hominin autapomorphies, not found in other mammals or other bipeds. It seems unlikely that Gigantopithecus would have evolved these uniquely hominin traits in parallel."

Bernard G. Campbellin wrote: "That Gigantopithecus is in fact extinct has been questioned by those who believe it survives as the Yeti of the Himalayas and the Sasquatch of the north-west American coast. But the evidence for these creatures is not convincing."