About
Yes, Im French and im proud of it.
" Nobody Dies a Virgin Cause In The End, Life ******** Us All"
Un commentaire?
Intéressé par:
Hommes
Vous cherchez:
Amitié
Une relation
Opinions politiques:
William Shatner
Les conceptions religieuses
Hitler
Musique préférée:
Dirty musique, aiment la musique, techno, screamo, metal, rap,
Programmes TV favorites:
Family guy, Simpson, American Dad, Inuyasha, Naruto, deathnote, Invader Zim, 1000 façons de mourir, Sponge Bob, That 70's Show, étoile, Vampire Diaries, la WWE Universe, Scooby Doo, Devil May Cry, Robot Chicken, haute Broomwell , Pocoyo, Tokyo Mew Mew, en bordure de voie
Films préférés:
Horreur, drôle, romantique,
Livres préférés:
manga, Calvin et Hobbes, Laymon Richard,
Citations favorites:
"Ill arrêter poignardé quand vous arrêter de crier" choidos ~
Aime <3:
Shopping
regarder thrillers
Anime (Japonais)
Dessin
Musique
Jeux
Animaux
Nice PPL
Jeux Vidéo
être malade d'esprit <w>
Motos <3
Money <33
Dislike </3:
Vous
Stalkers
Rude PPL
Tomates et lettis
Douleur
J'ai> o>:
dépendance
Wii / GameCube ect. Dépendance
TDAH
toxicomanie Musique
addiction à la télé
Sexiness; jk O xD
Haut métabolisme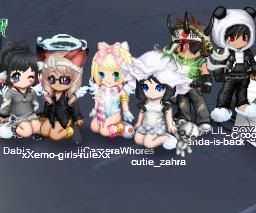 Friends
Viewing 12 of 68 friends
Multimedia
Signature
LISTEN UP LOSERS THIS IS WHUT I GOT TO SAY...




...Take meh in the bathroom, Take my clothes off, Make love to meh up agianst a dirty wall <3...