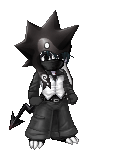 Hello. My name is Elias

I'm 23.
I'm a manager at

Ruby Hookah Lounge


I used to visit Gaia on a daily basis, but my interests changed and I grew up.
I'm back because I'm

bored

.
So while I'm bored, make friends with me! Visit my marketplace! PM me! Hell I'm even up for an RP.




Nana was here. <3 and she loves Eli. <: RE4 with him FTW. >:U Bye.