About
Uh, lessee...

Age:15
Gender: ...For those of you who cannot tell by my name, I am female... (Or am I? Bwahahaha!)

I love anime and manga. I draw and I write fan fictions...

though not much anymore.

I'm workin' on REAl novels and such. I also enjoy reading fantasy, science fiction, stuff like that. I am in the process of writing my first fantasy novel...s. (I do not have issues with commitment!)

I love all types of music, mostly alternative. I ADORE Phantom of the Opera and Les Miserables, Rent and now, Sweeny Todd!(I want you bleeders!)

I am a Naruto fan. (Not as much as I used to be.) Black Cat is another of my favorites. And only God knows how, but I've come to love Ouran High School Host Club. I've also started reading Dororo after its recent reprinting. Really anything Tezuka is fine by me.

Death Note, though, now rules my manga fandom. (Kira will get you!)

I lied. I now have an ungodly obsession with Black Jack. (100,000,000 yen. Deal?)

Once again, lie. Death Note is my favorite again. (Mikami is GOD! Not Raito, Teru!)

That's passed. That's only cuz I watched the ending. (I'm (sorta) over it now...)

I really love video games, especially Tales of Symphonia and Phantasia, Symphonia mostly... (Once upon a time...)

And currently, I have been obsessing NONSTOP about Doctor Who, hence my profile change.

(Finally. I've had that theme for like two years or something...)

TORCHWOOD! Spin off of Doctor Who, and I LOVE IT!!!!! ("The 21st century is when everything changes...&quot wink

Check out mah DA page s'il vous plait! Bluberri-Pankakes It's mostly Gaia avi art piccies. (Nowainowai!)

Pictures.... Oui. C'est bon! (I take Francais class.)
It was for my birthday...(Meh lurbs meh fishes!)
Me 'n Tzipy (Formerly Indigo_Pride)...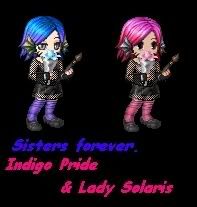 ...and Me, Tzipy, and Raspberry! (Formerly formerly... #1. Now they're #70283. Yeah.)


Gaian Mood Jewel
My current mood is...Elitist!

(I once had a Hedgehog Beanie Baby. I belive it may be lost under the endless chasm of the underneath area of my bed...)

<- Mistah Acorn (What did the acorn say when he woke up? Gee Ahm A Tree! <-(Math joke courtesy of my former Algebra teacher...))
Friends
Viewing 12 of 51 friends
Journal
The Journal of Me
My way of expressing things, but in writing.
Multimedia