About
Jesse Inferno
!

UPDATE: 22.05.09
Shine will be on a pretty long
HIATUS
soon..
>>My German language course is about to end, and the easy stuff will be out of the way. It gets a bit harder now, so I have to step up to the game. Whoopee-doo! I'm gunna have to yank my brain out of the storage & put it again to use after a looong period of hibernation. >_<
I have to prepare for the upcoming language exams (They have to see if I can speak German not fluently, but proficiently). Then comes another series of tests for my preparatory course. Mind you, it's just preparatory. The actual university stuff comes a year after...the hard part.<<
Fun time's almost over..spend the last bits of enjoyment with me..would you?
heart
::SHINE LIKES::
Chocolate
Eating
Cutting
her own
HAIR
Strawberries
Watermelons
Mangoes
Buying
RANDOM
stuff
Home Design MagazinesPiano/Keyboard
Violin
Guitar
Random people(
their
randomness
AMUSES
her)
New
friends
&
comments
(Yay! LOVE
them
!) <33
::SHINE HATES::
Hackers, Scammers, & Ungrateful people. It really irks me when I give a donation to someone and they don't even bother to say a little "Thank you". That's just rude...plain RUDE! Learn some manners please.
: biggrin REAM AVI::
After Exclusions: 172,960 Gold
[Item Information]
Item List:
[x]
G-LOL Dark Dollie Socks
- donated by x Silly x Boii x
[ ]
Dark Halo
Total Value: 448,214 Gold
[Item Information]
Item List:
[ ]
Vampire Hunter Hat
[ ]
Spirit Falcon
[ ]
Spirit Falcon
[x]
Elemental Wings
[ ]
Picolitrosso's Urn
[ ]
Dark Halo
[ ]
Oculus Mythica
[ ]
Super Powers
[ ]
Chain Of Command
[ ]
Celebrity Snare Hulk Impact Crater
[ ]
Drop Dead Gorgeous Twilight Gown
[x]
Masterpieces
Total Value: 29,260 Gold
[Item Information]
Item List:
Baby Blue Fuzzy Bath Slippers
Angelic Earmuffs
Blue Holographic Eyepiece
Angelic Parasol
Cool Starter Athletic Girl Shorts
Blacklisted Skimpy Swim Top
#0000FF Complex Jacket
::AWESOME PEOPLE::
xXx-WwE-DiVa-xXx -
heart
Donated
adult use only -
heart
Donated
I own you bitsh -
heart
Donated
Wolfgang Raven II -
heart
Donated (TYVM Idol Raven!)
-PH- Mandirigma -
heart
Donated
x Silly x Boii x -
heart
Donated
Elixirultima -
heart
Donated (TYVM Boss Elixir!)
By: ima_jem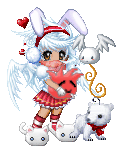 Puffle by: Nima_89

Avi Art
By: Nima_89
ChibiLoveHeart
By: Me & -mhack-
Avi Art
By: Me & Improved By: Arcrus Sinclair II
Friends
Viewing 12 of 123 friends
Multimedia