About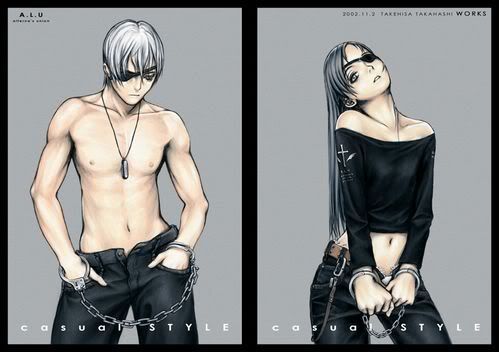 William and Itami
RPC Name:
Itami Tamaki
RPC Age:
18
RPC Description:
Itami stands at 6' 4" with big innocent blue-grey eyes, full pouting lips, flawless skin with a soft olive tint, and waist length black hair. The busty dancer has a carefree and childish nature as well as level head when it comes to men. Being a skilled flirt and always looking and dressing her best Itami tends to be quite popular with the guys. But having an attractive body, and showing a lot of skin most of the time, she sometimes finds herself in a dangerous situation...
RPC Choice of Main Weapon:
Katana
RPC Second weapon choice:
Zanbato
RPC Choice of Melee Weapon :
Hands
RPC Skills:
Crafting swords and other kinds of blades, Dancing, Seduction
RPC's Heritage:
Japanese
RPC's Religion:
None
RPC Bio:
As a child Itami developed an interest in swords and dancing. She began practicing swordsmanship as soon as she could pick up a sword. Itami's skills as a dancer made even the most complicated movements and attacks as easy as saying her abc's.
Itami is a second year senior in high school after failing to stay back with her twin brother, William. Itami works at an S&M club called Guilty Pleasures as and exotic dancer. Trying to become independant from her brother she decided to find somewhere else to call home. The mafia just happened to feel just like home.
<-><-><-><->
RPC Name:
William Tamaki
RPC Age:
18
RPC Description:
William is about 6' 4". His skin is far paler than his twin Itami's, pale enough to make him look like he was ill. He's lean and strongly muscled. His eyes are a pale almost white silver, the pale color of his eyes often gives the impression that he's blind, due to taking a special designer drug that isn't even availible on the black market. William's hair is bleached shock white and stops at his shoulder blades.
RPC Choice of Main Weapon:
A custom automatic machine gun that attatches to a metal brace that covers most of Will's right fore arm
RPC Second weapon choice:
12" serrated Damascus blade strapped to his back in a custom made sheath that fits between his shoulder blades hidden under his shirt, the only time he usually doesn't wear it is when he's shirtless.
RPC Choice of Melee Weapon :
Chains
RPC Skills:
Assassination
RPC's Heritage:
Japanese
RPC's Religion:
William despises all religions
RPC Bio:
William is Aku's son and Itami's twin brother. He was born first and tends to take advantage of that fact when dealing with his sister. William is the youngest AYAS member to ever make it to the Angels, having been placed on the team at the age of 16.
William grew up without his father and hated the man for that. In William's mind he only had his sister, Itami, and his mother. He became so violent as a child that his mother started to train him in martial arts and weaponry in hopes of him learning how to deal with his anger without harming anyone. His mother's attempts failed horribly, the boy became more violent as he got older.
In the year before he started high school William started using drugs and alcohol heavily. The result was in no way pretty. He became addicted to some of the most dangerous drugs avalible on the streets and some that weren't. William became even more violent and became prone to psycotic behavior. Several times he's attacked his own twin sister without meaning to. He also suffers from extreame sudden moodswings and unperdicateble personality changes. There are two main things that set him off, withdrawl... and touching or even being to close to his sister.
<~~~~><~~~~><~~~~>