About

My true name is Megan, and for the majority of my life I've hated it, and so I recommend calling me by Liz, or Lizzy. However, my last name needs to change. And my lovely fiancee should take care of that soon.

I'm currently 20 and attending college in hopes of becoming a teacher of some sort. Unfortunately I'm employed at a grocery store (it pays the rent) and everyone there thinks it's such a great thing to have worked there since they were 16. I, on the other hand, want to make something of myself.

I'm a music fanatic, which is ironic because I only just picked up an instrument (bass guitar) and I hate my singing voice. I love everything from Cradle of Filth the the Cure, My Chemical Romance to Marilyn Manson, Black Veil Brides to Blind Guardian, Emilie Autumn to Lady GaGa (and now we wander to the part where I can't match letters anymore), about a thousand more. I love the classics - Aerosmith, Bon Jovi, Metallica, Iron Maiden, Led Zeppelin... yessiree.

I went through a phase where I was heavily into anime and manga, and really anything Japanese. Recently I've recovered from this "otaku" phase and only follow to anime now (Fullmetal Alchemist and D.Gray Man). I attend anime conventions, however. This is mostly because my favorite hobby is cosplay, which goes along with my love of design and creation. Sewing happens to me one of my strong-points, and since I've been a performer my whole life I love everything about cosplay.

I love to pretend I'm good at drawing, and I also enjoy writing of any kind, but mostly fiction. Not fanfiction though - actual stories and characters I've created myself. My mind is constantly coming up with all sorts of crazy stuff. And because of that I'm hoping to get published and finally make some money.

There's a lot more I could say, but I won't bother saying it here. If you've got any questions about me, just ask: I'm more than willing to answer smile

Currently watching: Sherlock... again.

Currently reading: Game of Thrones

Currently working on: A novel trilogy.


Friends
Viewing 12 of 35 friends
Journal
♥Black Hearts♥

An update on my life
Signature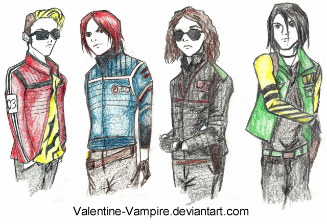 I do avatar art wink