About
Let's get this straight im not new i started in May 24,2006 that was my first account it was stolen now im using this account and it is now my main one,im not gaia addicted i was when i began here,im not a begger and never will be il earn my gold on my own but if you want to donate to me then go ahead i won't say no if you want help from me il try the best i can.

Thats me in the picture
Me info:
My Name:Kimmy
Orientation:None of your damn business <3
Age:21
Gender:female
Religion:christian/catholic
Status:Single;D
Mood:is okay
Race razz uero rican/part italian/part Spain
Music:screamo,techno,emo,death metal,metal/opra,metal,punk rock,rock,gothick rock,punk,alternative,indie,electronica, ect.
Likes:rainbows,animals,anime,shiny thing's,nii-san,mah brother from meh school i call him that even tough where not acctualy related,pudding
I have:short attention span,horrible memory,i keep promises
Thing's i love:my bff,my family,my animals,anime,music <3
Where i live: unkown
Favorite color:i don't have one but if i have to choose it would be the rainbow
Dislikes:grape soda,people in my school they can go ******** them selfs im sick and tired of their s**t already,people who spell like crap,people who treat me bad,being insulted,being offended,treated like if i was stupid
Drinking/smoking:soccialy/no
Nickname razz optart
Favorite shows biggrin rake & Josh,Rugrats,Martin Mystery,Totally Spies,Invader Zim,CatDog,Digimon,Codelyoko,Sailor Moon,Bleach,Perfect girl revolution,Love Hina,Inuyasha,Fruits Basket
Fav candy razz ixie Sticks,Sour Worms,Milky Way,Snickers,Whoopers,Hershys,Kissables,Skittles


1.Just because i like the rainbow doesn't make me gay.
2.Don't mess with xXToxic Lollip0pXx shes likes my little sister so if you bug her ill kill you.
3.I enjoy making avi art.
4.I dislike people who are to judgmental.
5.Sometimes i may not get on gaia it's because i have a life two live other than here.
6.I'm on a quest to get all my old items back so DO NOT ASK ME FOR GOLD.
7.I hate hackers.
8.I like making my avi funny looking time to time.
9.I rarely change my profile.
10.I will donate when i feel like it.
11.Don't complain to me that you can't READ THIS.
12.I dislike people who criticize a bit to much.
13.Dislike bad grammar.
14. I like painting my nails bright colors.
15.I like my converse and i like my vans and air walks.
16.I don't particularly have a favorite animal.


Journal
"Friendship doubles your joys, and divides your sorrows."

About everyone and anything
Multimedia
Signature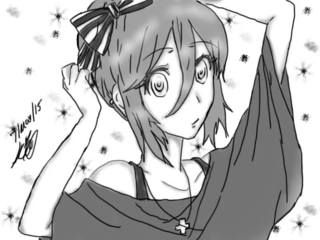 Art By: Myself. Pm if ud like to talk to me or are interested in art. :3