It's Meh Betches!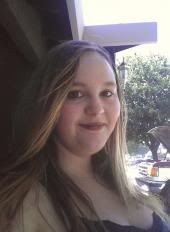 Hai ;3 my name is Katie, but you can call meh Kitty. I am a freshmen at Thomas Downey in Modesto CA, my besties in real are Cynthia and Nancy (-l- B U N Z Y -l-). I am fifteen years young and love anime (ANIME FREAK TILL DEATH!) I love neon colors, my fav colors are black, neon green, neon purple, and neon pink. I am very shy when I first meet new people, but when I warm up to you I am very friendly and seem to be fine. Also I am very trusting of my friends and very protective over them so mess with them and prepare to get hurt. I have days that you shouldn't ever mess with me and I will let you know, I also hate when people judge me before they know me because the people who know me wish to never loose me ;3 I love all my friends and if you go to Downey High hit me up and maybe we can be RL buddies. Tata for now.
<3Kat<3
Football:
Raiders
Music:
Everything
Spare Time:
Hang out w/ family/friends, play on comp, listen to music, sing, draw
Peircings?:
Ears and Tounge
Other:
Don't be afraid to ask meh questions!