Stuffs
1st off
surprised
FTW It Is Filthytacohuman
i red duh rulz 'n it sez i ken trull? wuts trull? newyz i wanz 2 no y u beg 4 gld? u mak qst 4 duh ppl 2 dn8 2 u? u shuld mak gld urslf f evry1 mad a "qst" thrd dey wud get der qst dun and no1 wuld hav qst bt dey dnt dey wrk 4 dey stuf n u shuld 2!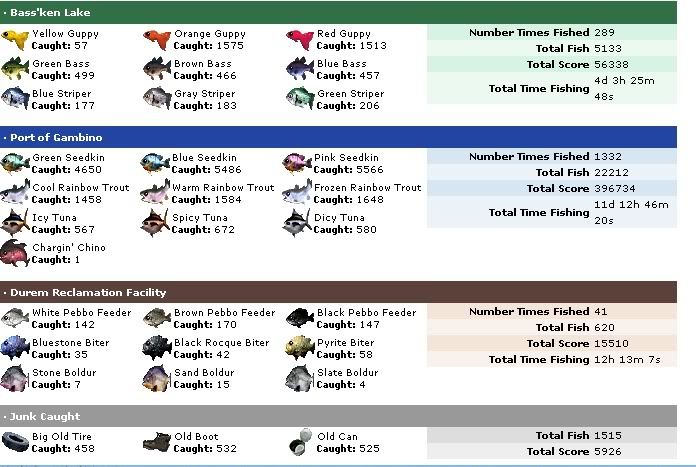 So I was in a room with a few people, and we came up with a joke. This is the result xd
By Bria

By Zubatt
My other account is K Prime. Finally got him back!!!
mrgreen
But I still love this account so I'll be on here equally
smile
I won 3 trophies on K Prime. Should've won 4, but they banned me before they gave out my 4th one
April 07 I won Bass'ken silver and a Junk bronze
June 07 I won a Bronze in Gambino.
I have Beloved Sumisu's Gold Bass'ken and Th3 Puppet's Silver Gambino lost on my account too D:
On Kisarah, I've won 5 trophies.
I won Gold Gambino in October 2010. I still have the fisher in me.
pirate
I won Overall, and a bronze in each of the lakes in December 2010.
I also created the first Spear of Bino on February 18th 2011!! Woot!
I play PS3 mostly. Online when I can. I play Call of Duty 4, Street Fighter IV, Megaman 9, PAIN, Fallout 3, and occasionally Call of Duty World at War.
These are my accounts and stuff for Call of Duty 4:
wufei8706: 5th prestige, lvl 24, 8 days 10 hours spent on it, 21177 kills, 20432 deaths, 1.04 k/d ratio
I use this as my main account for PSN. Not my badass account since I just want max prestige one day XD
GiveMeHeadBiya: 1st prestige, lvl 33, 2 days 3 hours spent, 5382 kills, 4375 deaths, 1.23 k/d ratio
My joke account. Still a badass one though. If you see this one, I'm probably team killing on hardcore so watch out
surprised
thananat: 1st prestige, lvl 55, 4 days 2 hours, 9049 kills, 6853 deaths, 1.32 k/d ratio
Alright. Now this is my best mofo. I get on when people piss me off and totally own them.
other stuff
I also have a Wii, PSP, PS2, DS, this computer, but I don't use those much.
razz
I think Between the Buried and me is the best band ever. Fear Before ( The March of Flames) is my 2nd, and From Autumn to Ashes is my 3rd. Too bad FATA broke up D:
I wouldn't be here still without all the support of my friends. Thank all you guys for real. Shitsux in my place. Just glad my true friends had my back and stuck with me through it all. And to all the new people I met. Thank you. You've been great and I'm glad to have had an impact on you as well. Only a warrior dies, but a legend lives on forever.
umm.. I think that's it. Well, I'm a b***h. Maybe it's because my avi's a girl <_<
That's it for now >_>