About
UserName:
Kiimi Tomoyou
Age:
14
Civil Status:
Single
Occupation:
Obviously I'm a student
Hobbies:
surfing the net, chatting, texting and meeting other people! biggrin
Books:
Books by Stephenie Mayer, Carolynne Keene, Mary Higgins Clark and J.K. Rowling...Hardy Boys novels, all books under the Philippine Genre and some comic books..I'm an avid collector of KikoMachine Komix
Movies:
Nancy Drew, Forbidden Kingdom, Harry Potter Series, National Treasure 1 and 2, Transformers, Bring It On Series, LXG and House Bunny..
Music:
Any song soothing to the ears and that creates great ambiance.
Crushes: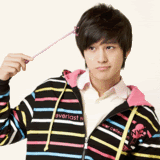 Kim Bum
Kai Utonashi of Blood
Friends
Viewing 12 of 30 friends
Journal
Please enter your journal title here
Signature

My name is: Soojin
My mama/papa is: Hara 하라
i like: eating candies
i dislike: sleeping alone in the dark

YOU CAN ADOPT ONE TOO AT: Adopt a Baby!