My character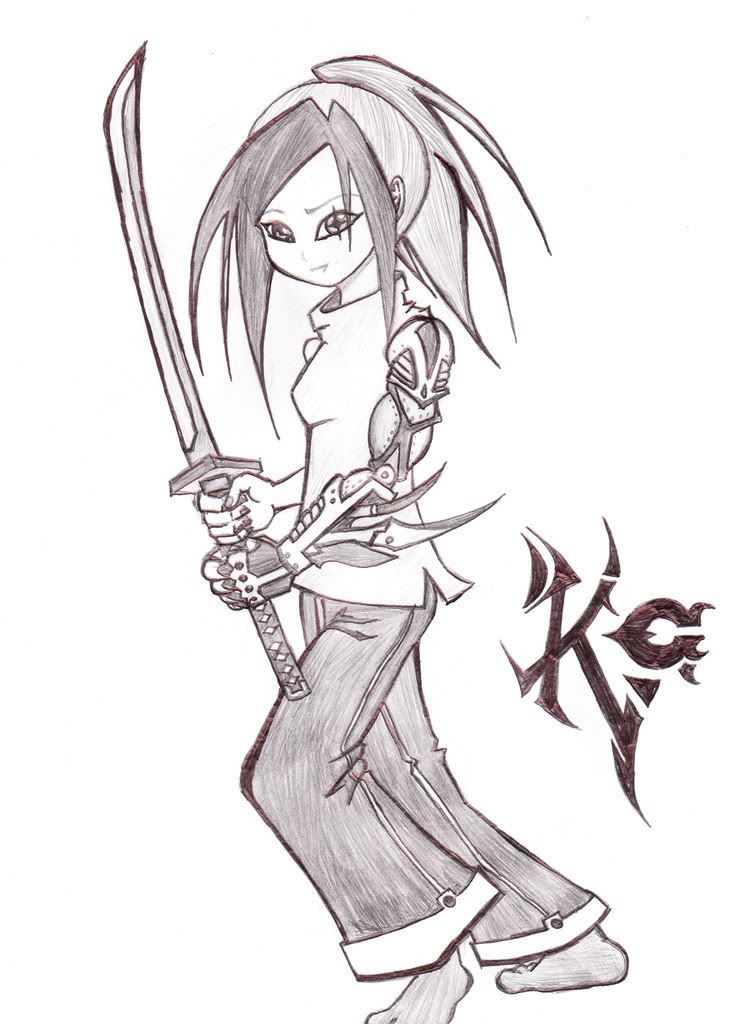 (thank you big brother :3)
Appearence color: Hair- Brown with black bangs. eyes- Blue. Shirt- green. Pants- Blue. Skin- Pale
Name: Katsuki Chyushi=K.c.(adopted by Aico Sojimoto as a little sister)
Birth: October 1st
Age:17
Occupation: None except for ninjaing?
Likes: Fighting, Training, Alex, Family, Friends, and Drawing.
Hates: Drama, losing, giving up, and being shy.
Fav. foods: Mango, tacos, ramen, and SUSHI!!
least fav. foods:... ill eat anything
Demon
:Kilm(male)(8 tailed demon fox[relation to Kyuubi,brother)

Katsuki Chyushi was a daugther of one of the most secretest village's leader,Yoshi Chyushi(male) of The Chyushi Clan. K.c. was extremely shy when it came to meeting new people. But when she knew them she was the utmost studdornest little girl you'll find. She had no siblings, only her two cousins, Jehuo and Mark. Mark being the oldest, Jehuo the same age as Katsuki. One Day, The area of the Chyushi village was found by a currupt demon, Kilm. Yoshi had no choice but the seal away the demon inside his own daughter, whom he loved dearly, and he died within the process. Now with half of the village destroyed and with no leader to guide them, it seemed all hope was lost. A couple of weeks passed, it was in the middle of the night of Katsuki's 5th birthday. Mark went on a rampage through the village, Massacring everyone leaving no one alive, But he missed only two.

Jehuo and Katsuki had to take care and help each other, since they were still in their childhood. Plus with Kilm inside the child made things extremely difficult for her and mostly Jehuo. They trained, fought, ate, laughed, and played as if nothing really happened. Then 9 years flown by, Katsuki was a woman and Jehuo was a man. and so they decided to go different ways and promised two things to each other. One is to never Die in the hands of Mark and Two is to hopefully meet each other again.