About
HIYA~ How're you? If you said good ... That's good...very good indeed. If your answer was 'bad' ... then... Cheer up will ya? ;3 Life is far too short to be in a sour mood so be in a sweet mood while ya can! I'm probably the happy-go-lucky-aggravating-chick vibe right? BAHAHA bet a lot clicked off :} IF YOU DIDN'T then... congrazzles! You wanna know about me! That's so awesome.. kinda stalker-ish.. but awesome~! Well... I'm 14.. that's right 14~ My living situations? Well, I have a pet unicorn named Mr. Rainbows, I like to dress him up with ribbons >w< aand I have a Mama Lizard.. that would be AiRozu-chan, i like COWBOY BOOTS~ ((teehee... inside joke you peeps wont understand besides me, AiRozu-chan, and Dean_Loves_Cas <3)) no no..haha... okay so im in Jersey AND NO IM NOT LIKE SNOOKI OR SAMMI OR RON OR PAULY D OR ANY OF THE OTHER IDIOTS ON THE SHOW, JERSEY SHORE. They give us Jersyites a bad name <_< Snooki's my entertainment though, so I'll give it to her xD I used to live in Tennessee ((btw... best 3 years of my life~ miss all of you T^T)) but..now im back in my home-town~
Imma Supernatural freak, LOVE kitties, Anime, YAOI ((dont hate >_&gt
wink
) I support LGBT ((dont..hate.. >_&gt
wink
), I like the color white~ ((the color of purity and innocence~)) in case you were wondering, my favorite flower is the White Rose. I listen to a variety of music.. ((BESIDES COUNTRY <____> I HAAATE COUNTRY Dx)) Im white but my heritage is all Czechoslava--uhm-- i unno how ta spell dat xDD but im also Scottish, Irish, and Danish ((not thee dessert >_&gt
wink
) And if you personally know me you'll know how pale and vamp-ish i kinda look. Its da irish curse. >_> BUT my nickname's Gibby and... im bored of typing now so.. BAIBAI~
OHHH im real fun and easy to get along with~ I AM a sweetheart ((Zoe if you're reading this..stop laughing)) I can help out with little life problems and give my opinions~ Just dont get mad at my opinions if you ask cuz i'll hand it to you straight and if you no likey then suck it up and recall yourself asking my opinion. >_> Okayy... so... bai bai fo' now~
Why Did I Fall in Love With You?
by: Tohoshinki
(English Lyrics)
Link to song:
http://www.youtube.com/watch?v=zQG2iDJ1Y9E
Why...
Did I end up falling for you?
No matter how much time has passed,
I thought that you would always be here.
But you have chosen a different road.
Why...
Wasn't I able to confess to you?
My feelings that were growing everyday and night.
The words begin to over flow..
But I know..
They won't reach you know.
From the first day that I met you,
I felt like I knew you,
And the two of us melded together so naturally.
Wherever we would go,
it would be together.
It was so natural,
For you to be with me.
We became adults together..
But you chose a different road.
Why...
Did I end up falling for you?
No matter how much time as passed,
I thought that you would always be here..
But not anymore.
Today, the day that holds a special meaning,
The day that you stood with a smile,
Praying to God in your beautiful appearance,
With the person standing next to you, who isn't me,
The image of you receiving blessing.
How could I just stand aside and watch?
So why...
Did I end up falling for you?
We can't go back to that time, or how we were. (I've thought it through)
Why...
Wasn't I able to take your hand?
No matter how much time passes,
You always should've been by my side..
Now it will never come true.
But even though...
I say that I need you close to me,
I pray that you will be happy forever..
No matter how lonely that makes me (or how miserable).
THE EPIC BOB
blaugh
Bob: Jill! Jill! come out here! Quick!
wahmbulance
Jill: What?
rolleyes
Bob: Look at that bird!
eek
Jill: What bird?
stare
Bob: That bird! Right there in that window!
eek
Jill: The bird in our neighbors window?
neutral
Bob: Yeah! You see it?
eek
Jill: So, I'm looking at the bird in Jeffry's bedroom window, right?
confused
Bob: Yeah! Isn't it the ugliest bird you ever saw?
eek
Jill: Um..Bob-
neutral
Bob: Do you think we should call the authorities?
eek
Jill: No. Bob-
mad
Bob: It could be a new species!
eek
Jill: Bob-
stare
Bob: *gasp* Maybe they'll pay us big bucks!
eek
Jill: What? No, Bob-
stressed
Bob: I can finally get us a new place! Right in the mountains with a wonderful view! Can you picture it, Jill?
4laugh
Jill: No. Bob-
stressed
Bob: Oh c'mon! When we turn in that ugly bird we'll have loads of money!
3nodding
Jill: Bob!
scream
Bob: What?
confused
Jill: That's not a bird! It's Jeffry!
scream
Bob: *squints* Ah-ha.
sweatdrop
Jill: Yeah, we're getting you glasses.
stare
Bob: No! We don't have to!
mad
Jill: Yes we do. You just thought our nextdoor neighbor, whom we've been living next to for 15 years, was a new species of bird!
talk2hand
Bob: Yeah, well, if my eyesight is going bad then how can I see that U.F.O. up there, waaaaaaay up in the sky?
talk2hand
Jill: Now THAT'S a bird.
stare
Bob: Oh.
sweatdrop
Jill: Come on. We're going to get you glasses right now.
neutral
Bob: FINE! Wait! Wait! Wait!
exclaim
Jill: What now? A flying Elephant?
rolleyes
Bob: No *scoffs* it's Jeffry. I can see him all the way over here. Do I need glasses now? Think not.
cool
Jill: Yes, you still do need glasses because thats our dog. Jeffry's in his room.
stare
Bob: Alright. Glasses, here I come!
emo
Jill: Oh boy..
rolleyes
END!!!!
dramallama
Okay..well..im Gibby..
Im obsessed with Kuroshitsuji<3 (Black Butler<3)
Im also obsessed with a song from Kuroshitsuji:
Lacrimosa.
But I like the English Dubbed version of the song.
From "Lacrimosa" :
My Future and my Depair twine themselves
to a dark and sinister tune.
The grief fights its way to the surface
by the bitter glow of the moon.
Faithful,
through and through.
I will hold your secret tight.
Silent air,
Haze of blue,
I stride into the night...
Lacrimosa, broken heart,
feels the horizon's pull.
I want to love.
I want to feel
this dazzling world;
I want to be..
free from dreams that cloud my sight,
dreams i hide within my eyes.
Never to rest.
Never to heal..
'til my withered heart
feels the touch of your tears.
Phantom carriage cuts through the darkness
on a quest to seek out the light.
But beware the dreams
and the funeral pyre
that yearn to trap you inside.
No prayer will pierce the sky
of the heartless, heavenly dancers.
Whisper,
howl,
wail or cry;
you will never be answered.
Lacrimosa.
We will be fuel for a mighty blaze,
Burning us hollow with bloody rays,
to scorch that sky,
until
it is
no more.
Lacrimosa,
as i fell
to the Earth where I was born.
I want to love.
I want to feel
this bloodsoaked world without fear.
My faith will keep me strong.
I'll forgive you every wrong.
On this Earth,
I will remain
to savor the tears
that I shed everyday.
*you should look the song up one day ;D*
in case u dont know what Kuroshitsuji is..
well..first of all...shame on you
xp
and u should go look it up on google as soon as possible!!!!
and here r the characters(season 1):
Sebastian Michaelis
:
a sexy butler
4laugh
oh..and he <3's cats!!!
Ciel Phantomhive
:
a little boy (12-13 yrs old) with a messed up past **and an awesomely amazing butler
whee
Finny
:
a cheerful, loveable and faithful gardener to Ciel
.
Bard
:
another servant of Ciel's. he's the chef (even though sebastian takes over that job from time to time) he's older than the others and is slightly overconfident, but we love him anyway
4laugh
Maylene
:
Ciel's maid. she's loud and slightly obnoxious, but you cant help but love her
4laugh
shes quite the clutz and is always falling into (or onto in some cases) into sebastian, whom of which she has a major crush on [/i](along with every other Kuroshitsuji fangirl<3)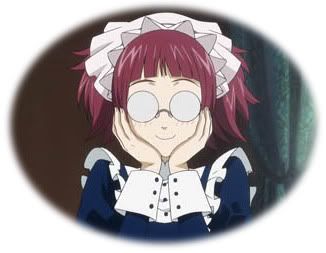 Grelle Sutcliffe: A gay temporary servant of Ciel's. ever since grelle laid eyes on sebastian hes all he can think about (i dnt blame ya grelle<3) hes a dramatic clutz who, in due time, teams up with madame red (Ciel's aunt) in an evil scheme! wats tht scheme? watch it and find out..i aint bein a spoiler!!!!

Undertaker: A creepy undertaker, who reeeeally loves his job **shivers** and has a sensitive side and usually only wants a good laugh!




William Spears: A man of strict business (and a veeeery monotonous voice!!) who never really expresses emotion..ever. He is the boss of..erm..ull find THAT out urself now wont u?


Tanaka: the head of the Funtom co. he is rarely "normal" i might say.. 4laugh

***I HOPE IM NOT FORGETTIN ANYONE***

Season 2:
same characters..just a few new ones wink

Alois Trancy: a spoiled little brat..who shows his softer side eventually..and has another amazing butler!!!
he also has an f'd up past..as ull see laterrr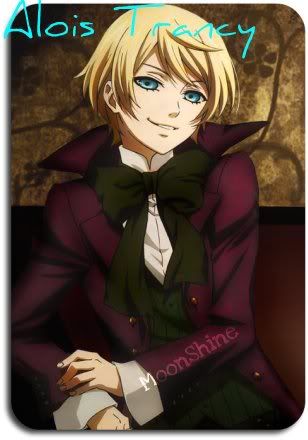 Claude Faustus: yet another attractive butler (doesnt quite fit 'sexy'..very emotionless. like Will)




Ronald Knox: he's my walpaper!!! heart i cant give away too much info bout him but i will tell u one thing..he's sexy. heart 4laugh heart




***THE REST OF THE CHARACTERS WILL GIVE AWAY TOO MUCH!***