About
Name:Kat
Age:19
Occupation/School: MHP
Relationship: Dating
Best Feature: My eyes
Music: Anything
Hobby/Sports: Swimming, writing, staring off into space xD
Weirdest Feature: My eyes, they change colors from white to gold. I can move my chest like the buff guys on tv, its funny to see people freak out over it.
Nationality: Italian
Random:
I really dont care about alot of things that most people say are important, such as the newest fashion, why should i care? Family Dollar and Walmart have good enough clothes.
I love to play games, read books, and swim.
I'm really nice, I dont like fights they are pointless to me. You can call me whatever or say whatever, it wont effect me.
I have a weird sense of humor, but then again people have creepier stuff going for them.
I love animals.
I dont know what else to say.
Me: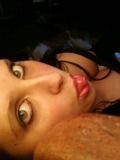 My Girlfriend Brandie with her mom: