About

Fave Video Games: Kingdom Hearts 1 & 2

I love BL, just so you know...

Also, I have a strange obsession for icons. I can't help myself, really. If I see a cool one or one that makes me laugh, I sort of just hoard it away somewhere. I guess I can post them here, and share it with all of you guys.

Feel free to send me icons to add on my profile 3nodding


Harry Potter icons:










































BEST HP CONVERSATION EVER:
"So, when I told you JKR anounced one of the characters was gay, why'd you immediately guessed Sirius Black?"--me
"Because he looks gay."--mom
"He's not even real! He can't look like anything!"--me
"... xp "--mom



Kingdom Hearts icons:











































Death Note icons:











































Naruto icons:























Torchwood icons:







Kyo Kara Maoh icons:








Doctor Who icons:














Honeydew Syndrome icons:















Get Backers icons:








Supernatural icons:









Best Conversation Ever:
Me: "You have no talent because you can't open candy in the dark!"
Tof: "Mami! She called me a no talent loser!"
Mami: "Mi'ja even losers have talent."
Me: "Ha! That means you're worse than a loser! rofl "
Tof: gonk
Friends
Viewing 12 of 24 friends
Multimedia
Signature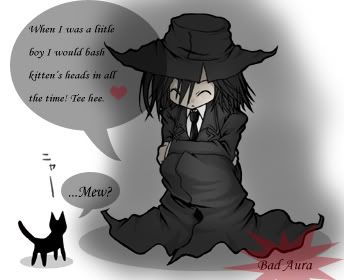 I like to collect random icons of my fandoms. Care to donate?