Kaenai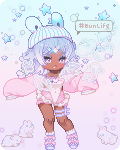 Details
Location

In The Club

Birthday

01/31
---
Interests
About


I'm a mom, so I'm older than you might think. Gaia, to me, is a place to relax, let my hair down, and let my inner child play.

I'm so very easily distracted. Please don't be offended if we're in conversation, and I seem to disappear. I've probably seen something shiny from the corner of my eye, and gone to investigate.

Loves:
Music. Gadgets. Coding. Pretty things. Cute things. Kittens. Pikachu. K-Pop. Orchids. Gladiolas. Lilacs. Gerbera daisies. Golden Oreos. Vienna Fingers. Water. Curls. SHOES. SHINIES.

Doesn't love:
Rudeness. Rudeness. Did I mention rudeness? Gender inequality. Inequality in general. Anti-choicers. Double Stuf Oreos. Sadness. There's more, but I can't think of it right now.

OH! oh oh oh.

I also love 2NE1. Blackjack 4 lyfe, yo. Minja 4eva.
Signature
I have the heart of a child. It's in a jar on my desk.
(ノ⌒ヮ⌒)ノ*:・゚✧