About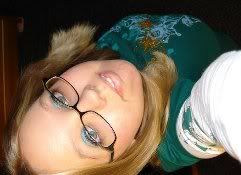 Hello! ^-^

My name is Heather, and I've been a member of Gaia since January 25, 2004. (Almost at my fifth year anniversary! O: ) I'm 19 years old, and I'm a sophomore in college. I'm majoring in Pre-Nursing and minoring in Japanese, and hope to become a Certified Registered Nurse Anesthetist (CRNA). :3

Art Sketchies:
I've been drawing for a few years now. Here are some examples:
Full Body
3/4 Body
3/4 Body
Colored 3/4 Body
Chibi

Prices:
Chibi: 5K
1/2 Body: 8K
3/4 Body: 10K
Full Body: 15K
Colored: Add 3K
Favorites:
Color: Black
Number: 37
Food: Japanese
Fast Food Restaurant: Cook Out
Ice Cream: Cookie Dough
Cereal: Reese's Puffs and Rice Krispy Treat Cereal
Candy: 5th Avenue
Drink: Sundrop and Water
Animal: Baby Harp Seals, Seahorses, and Giraffes
Website: Youtube
Band: The Pillows
Music Genre: J-Pop
Song: Merry Go Round by Yui
Movie: Transformers
TV Show: King of Queens
Cartoon: Fairly Odd Parents
Anime: The Melancholy of Haruhi Suzumiya and Peach Girl
Manga: Chobits
Video Game: Zelda: A Link to the Past


Likes and Dislikes
<3:
Thunderstorms, Pokemon, art, mini erasers, Hello Kitty, gel pens, cell phone charms, Nyanko Kitties, toe socks, diaries, figurines, fruits, etc.
</3:
Riding in a car with the windows down or cracked, screaming vocal music, reading, writing, smoking, cooked tomatoes, peppermint, spearmint, wintergreen, and cinnamon gum, pigs, etc.
Friends
Viewing 12 of 35 friends
Signature