Jill4ChrisRedfeild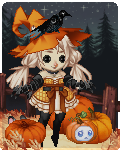 Details
Last Login

05/25/2019 7:48 am
Occupation

Student

Gender

Female

Birthday

05/10
---
Interests
Favorite Movies/Anime
Favorite TV Shows
Favorite Reads
Favorite Music/Bands
About

I love anime/manga, been a wee bit addicted since I was..11 or so? I can't remember! I love all the Ghibli films and Disney is my world.
I sing, write stories, songs and poetry, draw and right now I'm getting into needle crafting and polymer clay smile should be fun.

I adore horror. Horror films, books- horror games especially (Where the name comes from, Resident evil. Been a fan of that since I was..4..I think. However old I was when my parents got a ps1 and played in front of me haha!) and some of my favourite game franchises are:
The Walking Dead
Silent Hill
Bioshock (not quite horror but definitely awesome)
Borderlands (same as above)
Five Nights at Freddy's (as a literary student, I LOVE the story behind that game, the lore and story telling is what makes it really)
Project Zero/Fatal Frame
Rule of Rose
P.T (rip Silent Hills crying )
Resident Evil (the older games specifically, 5 and 6 were just..not great imo)
and I have a special place for funny games or games with good story, such as Portal 1 and 2, Skyrim, Mirror's Edge (Not a funny or good story game but worth playing because of how damn cool it is!) and countless others.
My favourite sonic game would have to be Sonic Adventure 2 Battle because ******** yeah, Chaos <3

And I'm a huge Harry Potter nerd. Like massive.
Other books I enjoy tend to be in the realm of fantasy/sci-fi, mostly young adult or children's novels really. I just love the nostalgia of reading a Roald Dahl book or getting stuck into some Redwall by Brian Jaques smile

I'm a film buff thanks to my partner, and some of my favourite directors are Edgar Wright, Wes Anderson, Hayo Miyazaki, Brad Bird, Nick Park, Jim Henson and not so much any more, but pre-2009 Tim Burton smile
Also Gulliermo Del Toro deserves a mention and so does Luc Beson.

I have a pretty dark, bizarre sense of humor so South Park, IT crowd and Father Ted are some enjoyable shows I watch.

Also if you're into musicals, talk to me!! I ******** love a good musical. Wicked is by far my favourite, but the classics are great too smile 1980s Annie, Singing in the Rain, Oliver, Calamity Jane just to name a couple haha smile Get to know me!

Friends
Viewing 12 of 33 friends
Journal
J4CR's journal. About me.
J4CR about me and my hobbies.

Multimedia