About
Nicknames: Foxy, Fox, Fox-chan
Gaia Satus: Taken(?)
Likes:Anime, music, hanging out, roleplaying.
Dis-Likes: Really preppy people, bi haters, emo haters.
Quest: Gold.. Easy put.
Music: I have a wide variety of music, including, foreign, metal, some hip hop, some rap, alternative rock, punk rock, etc..
Donaters!!<3: Sushi! Ducky!
Aim: deathbydreams78


If all of a suddenly I leave it's because I went back to my moms.
Friends
Viewing 12 of 50 friends
Journal
Mixed emotions
Multimedia
Signature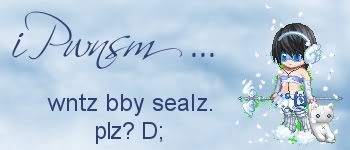 I <3 donations. ;D