About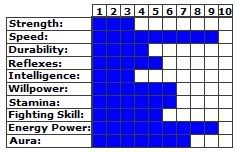 Greetings Gaians! I am Solaris. People also call me the Solar Ninja. I am currently the captain of the Legion of Heroes and a member of Hero Corp. My main power is the ability to manipulate solar energy. When I collect enough energy I can create a beam of light from my hands. Also with enough stored energy I can produce large light and heat waves and explosions. I use a red and gold bow staff to harness absorb solar energy. When I collect enough I am able to launch projectiles of light or heat waves when I slash in the air. I also use it for defense and hand to hand combat. For protection I use solar energy to create a force field. Another way I protect my self is by using the energy to produce a blinding light to blind enemies. I also have the ability to fly. Another power that I have is speed. I am able to run and attack with immense speed. Many say I run "like the speed of light."
This is my story.

When Patrick was young he was put up for adoption. Many years had passed and no one had adopted him. When he turned 16 he left the adoption agency and went to go live out on the street alone. Then one hot summer day he was approached my two government agents of Gaia. Patrick agreed to go along with them. They brought Patrick to a lab where scientist of the G-Corp were doing tests on other people. These tests were to see if they could create super beings. They took Patrick into a room with a glass chamber. On top of this chamber was a rod that looked like it was used for absorbing something. Patrick was then put inside the chamber. Then they opened the roof above Patrick and the sun shown through. The sun's rays hit the rod and the rod began to light up. The chamber filled with a bright light and then there was a flash. The experiment was over. When the scientist opened the chamber Patrick stumbled out and then collapsed on the ground in front of them. The scientist place Patrick on a table to lie down comfortably. When Patrick awoke a few hours later he felt an awkward feeling inside him. His body felt warmer on the inside. Then Patrick held his hands out and a bright yellow aura surrounded them. The doctors were amazed at the successful experiment. Then Patrick began growing feathered wings on his head. He began to fly around the room with astonishing speed. The scientist became more amazed. As a gift the scientist gave Patrick a katana to better his abilities. From that day forward Patrick promised to help those in need. He created a costume that best fit his powers and he then called himself Solaris.
Friends
Viewing 12 of 81 friends
Journal
iPinoy's Journal
This is my life.
Multimedia
Signature
[img:849fbac2b9]http://i6.photobucket.com/albums/y226/buta-chan/emrald eyes/iPinoy.jpg[/img:849fbac2b9]

[center:849fbac2b9][b:849fbac2b9]The Filipino Hero of Gaia[/b:849fbac2b9][/center:849fbac2b9][/color:849fbac2b9][/size:849fbac2b9]

[img:849fbac2b9]http://i158.photobucket.com/albums/t81/chixxx_studio/proudfilipinoxx6.png[/img:849fbac2b9]