About
i'm usually pretty laidback and chill...
then suddenly i'll become fierce and passionate...
i'm creative, ambitious, and insightful...
i was once Tribe Lord years ago...
pet peeves are close-mindedness and weakness...
i hate whiners and emos...
i used to attend an art academy...
i'm an intj personality type (2nd rarest kind)...
and tend to up and vanish for months at a time...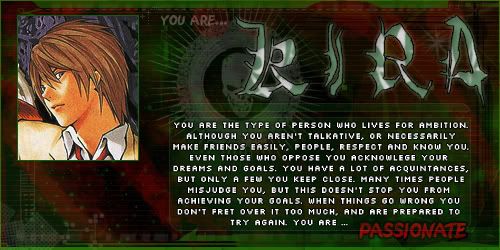 You are a curious person, always in a state of awareness.
Connected to all things spiritual, you are very in touch with my soul.

You are wise and bright: able to reason and be reasonable.
Occasionally, you get quite depressed and have dark feelings.

You have great vision and can be very insightful.
In fact, You are often profound in a way that surprises yourself.
Visionary souls like you can be the best type of friend.
You are intuitive, understanding, sympathetic, and a good healer.

PURPLE
You are a mixture indeed- the stability of blue but the fire of red. You're a poweful force, whether you know it or not, and ambitious. You're creative, wise, and often misunderstood. Some may believe you're fake or artificial, but don't listen to those pricks. Do children feel especially drawn to you? Gloom, frustration, and daydreams aren't strangers to you.

Friends
Viewing 12 of 54 friends
Journal
In Dedication to my Old Friends
The title says it all...obviously....
Multimedia
Signature
[img:be5f046df6]http://i68.photobucket.com/albums/i31/jadeyes914/quotes-1-1.jpg[/img:be5f046df6]