Gaia Community
LEFT GAIA. byye.
|COMMENT|ADD|MESSAGE|
View cmts
Naked pictures of me ;o

h0ll4ndc0 (--o--) p0k3m0n m45t3r >

My favourite activity is being cool.
I'm actually a loser.
My favourite colour is hotpink.
See the irony here.
I'm Canadian.
I'm young.
I'm not black, or mexican.
I'm

SPANISH

, get it right, remember it.
I drink, I smoke; ******** you.
I love skinny asian men with rimmed glasses
&I love men with sun-kissed tans.
I'm the girl who hates being noticed.
If you're going to talk to me, talk with caps and punctuation.
I wish I had more energy.
I contribute to society.
My life is complicated to explain in just one paragraph.
I'm a drastic dreamer.
I was an accident child.
Painting is my favourite thing to do.
Cheez it's are pretty ballin'
No I don't look like someone you know.
I enjoy a good indie song.
I hate when people yell at me.
Yet I love to yell.
if you took the time to read this before talking to me, you're perfect, and i think you should talk to me
Hit me up~
Sign4sign?
http://www.youtube.com/watch?v=wvv1eC4TaIM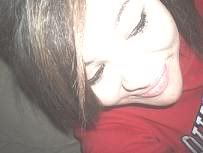 ikr ikr ikrrr
i dont accept random friend requests. talk to me first.
OKAY FOR PEOPLE WHO CANT READ, I DONT ACCEPT RANDOM FRIEND REQUESTS SO [/******** OFF.
thanks ;D

Ask for it.
sign<3
Amazing avi art
Avi arttt<3
Avi art smile
Avi arttt ;D
My name pissed in the snow ;D
Hot guy/ hot sign
I'm hot cause i'm



You ain't cause you