About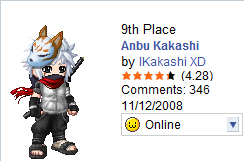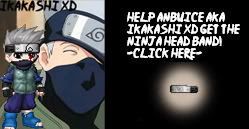 I just wana thank III Karin III real quick, she bought me two very special gift that was extremly sweet!! So thanks agian III Karin III!

Thanks to everyone who Voted for me in the arena's for WEEK 47!

<--Lets get one thing strait, I've got alot of people asking me for my Layout and for the name's of my items. I was one of the first people to make a Kakashi like this and I'm not gonna give out the names. Find it yourself or make your own style of Anbu Kakashi!!! As for the Layout, my friend made it! I wont give that code out for nothing. You get this stuff threw your head and we will be the best of friends!
biggrin


<--Made by me! IKakashi XD AKA AnbuIce! BooYah!












Copy Ninja Kakashi
Kakashi is the Konohagakure Jounin assigned in the beginning of the manga and anime to train and look after Team 7, including Uzumaki Naruto, Uchiha Sasuke, and Haruno Sakura. He is also known as Copy Ninja Kakashi (Kopī Ninja no Kakashi) or Kakashi of the Sharingan (Sharingan no Kakashi).
These aliases refer to the fact he copied more than a thousand jutsu (ninja techniques) using his left eye, which possesses the Sharingan, an advanced bloodline trait found only in some members of the nearly defunct Uchiha clan. The three comma-like marks aligned in a wheel in the pupil of his left Sharingan-activated eye indicate that it is fully developed for a normal Sharingan, with only one more level -- Mangekyō Sharingan. However, he is not a real Uchiha, and in fact receives the Sharingan eye from a dying friend named Uchiha Obito, his teammate, during his first mission as a Jōnin. During that mission, Kakashi injured his left eye in a battle trying to protect Obito, leaving behind the scar (which has nothing to do with the transplant operation). The scar comes from a slash that destroyed his original eye. It was revealed that Kakashi evolved his Sharingan to the Mangekyou...with a twist. His Mangekyou Sharingan can distort time and space...the full extent of its abilities have not been revealed yet.
His history
Chronically tardy, Kakashi initially appears to be flaky and unreliable. He is, however, an exceptionally skillful ninja, a child prodigy who attained Chuunin rank at the age of 6 and became a Jounin at age 13. His father was Hatake Sakumo, known as the "White Fang" of Konoha (Konoha no Shiroi Kiba) and a genius ninja on par with the Legendary Sannin (famous students of the Sandaime Hokage : Orochimaru, Jiraiya, and Tsunade).
Kakashi Gaiden introduces the other two members of Kakashi's Genin team, shown in a team portrait in the conclusion of the Chuunin exam. The sensei or teacher in charge of Kakashi's team was the Fourth Hokage, while his teammates were Rin, a girl trained as a medic ninja, and Uchiha Obito, Kakashi's teammate who wears goggles in the team portrait from flashbacks at the conclusion of the Chuunin Exam arc. The gaiden begins on the eve of Kakashi's promotion to Jounin and team leader and the beginning of a mission to the battlefront in the middle of a conflict between Iwagakure (Hidden Rock) and the Konohagakure (Hidden Leaf).
Following the war, Kakashi earned renowned fame for his use of the Sharingan and developed a reputation for failing every potential Genin team that took the Survival Training Exam he proctored. Like the Sandaime Hokage, and probably Jiraiya and the Fourth Hokage, Kakashi uses the infamous "Bell Test" to test his potential students. Ostensibly a training exercise with Kakashi, the three Academy graduates each have to take a bell from Kakashi, however there are only two bells. The ultimate goal of the Bell Test is to test the potential Genin's teamwork and self sacrifice. This test is what Kakashi uses as the real Genin graduation exam, weeding out potential Genin selected by their passing of the Ninja Academy's graduation exam with a failure rate of more than 66%. While his exam is generally considered to be more exacting and stringent than those of other Jōnin, the Third Hokage believes that his decisions to fail previous teams ultimately proved to be correct and wise. Team 7 became the first Genin team to pass Kakashi's exam.
Kakashi and Team 7
The initial results of the Survival Training Exam for Team 7 were unpromising. Naruto's impulsiveness, Sakura's tunnel vision focus on Sasuke and Sasuke's arrogant superiority and lone-wolf attitude resulted in a lack of teamwork, which led them to fail the Survival Training Exam. Given a second chance, an uncharacteristic display of teamwork impressed Kakashi enough to pass the team, the first Genin team he had ever passed.
Kakashi's controversial decision to permit Naruto, Sasuke, and Sakura to take the Chūnin exam surprised many, who believed that Kakashi should have given the team another year to prepare. Yet, through this decision, the team begins to truly realize their potential to be ninja. By the end of the second stage, the three exhibit signs of extensive growth from their extreme ordeals.
However, despite the training that Kakashi has given to Naruto and Sakura, the one he has spent the most time in training with is Sasuke. After the second stage of the Chūnin exam until Sasuke's defection to Orochimaru, Kakashi takes an active role in training Sasuke, teaching him Chidori and how to use his Sharingan, as well as attempting to seal the effects of Sasuke's Cursed Seal. Kakashi, like Sasuke, has lost many important people in his life including Obito, whose grave he appears to visit frequently. Sasuke's and Obito's relation, plus Sasuke's Sharingan ability and natural talent, lead Kakashi to train Sasuke for the third portion of the Chūnin exam, much to Naruto's disappointment, believing that Kakashi is playing favorites with Sasuke. Kakashi's intention was for Sasuke to learn to use the Chidori to focus on protecting the important friends he has made in the present, rather than seeking vengeance for the loss of his family.
His jutsu
In terms of the three main classifications of jutsu: Genjutsu, Ninjutsu, and Taijutsu, Kakashi appears to be balanced in his abilities, as demonstrated in the survival exam. Kakashi is a former member of Anbu.
His Kuchiyose no Jutsu (Summoning Technique) involves a blood contract with a pack of Ninken (Ninja Dogs) used for searching and tracking, among other purposes, as seen in his battle with Momochi Zabuza. He has a special Kuchiyose called Kuchiyose: Doton: Tsuiga no Jutsu (Summoning: Earth Release: Tracking Fang Technique)
His signature, and only original, jutsu is the Raikiri (Lightning Blade). Another name for it is Chidori (meaning, "A Thousand Birds"), due to the fact that the sound emitted from the chakra is similar to that of the chirping of a thousand birds. Doing the jutsu, he concentrates chakra into his right hand until it becomes visible. At high speed, this jutsu can cut through anything; thus, it serves as an effective assassination technique. Charging at an opponent, the chakra in his hand grows stronger from body activation, while the sound emitted by the chakra begins to resemble the chirping of a thousand birds. Because the jutsu involves a high speed, linear stab, the Sharingan is needed for the technique to be effective and to avoid enemy countermeasures. Developing Chidori before acquiring his Sharingan eye, he is nearly impaled by an enemy countermeasure, and is injured. As a result, the Fourth Hokage forbids Kakashi to use Chidori again. Kakashi resumes his use of Chidori after receiving the Sharingan eye. Kakashi is believed to have been able to use this jutsu to cut through a lightning bolt, which is why his nickname for the jutsu is Raikiri. There is a distinct difference between Raikiri and Chidori. While Chidori is A-rank (an ultra high level jutsu), Raikiri is S-rank (extreme level jutsu). This is due to Kakashi cutting a lightning bolt with it. Uchiha Sasuke, the only other person able to do this jutsu, is still only at A-rank level, thus he still calls it Chidori.
In addition to the three main types of techniques, Kakashi had been developing faculty with seals. This is seen in Kakashi's ability to restrain the effects of Orochimaru's Cursed Seal on Sasuke with the Fūja Hōin (Evil Sealing Method). Because of Kakashi's current skill level with seals, the seal's power to restrain the Cursed Seal depended on Sasuke's willpower and determination to forsake it and control his emotions. Otherwise, the seal is rendered ineffective.
His life
Kakashi has an ongoing rivalry with Maito Gai; Kakashi's current record stands at 49 wins, 50 losses. It is later revealed that these battles are diverse in nature, including sprints and Rock, Paper, Scissors. Gai serves as a perfect antithesis for Kakashi in personality, appearance and in technique. Unlike Kakashi, Gai has had to work hard to achieve success as a ninja and mainly uses taijutsu, which is the natural counter to the Sharingan.
Another ninja has proven to be a match for Hatake Kakashi: Yakushi Kabuto, Orochimaru's spy, lieutenant and medical ninja, who manages to elude Kakashi in several confrontations. Initially posing as an undistinguished Konoha genin, he proves to be a Jōnin level ninja with skills and abilities on par with Kakashi. His encounter with Uchiha Itachi demonstrated that while Kakashi has one Sharingan eye, he may not be able to match the eyes of a natural Sharingan user. While he could resist the Mangekyō Sharingan, it was the Tsukuyomi technique that ended up not only defeating Kakashi, but rendering him unable to fight for a very long time.
Kakashi's personal life appears to be as much of a mystery as the face behind the mask he has worn for most of his ninja career. He has no living family, or at least none he cares to acknowledge though he is immediately recognizable as the son of (or mistaken for) the 'White Fang' of Konoha, Hatake Sakumo. Whether the mask he wears is because of this resemblence or for some other reason is unknown. However, despite Naruto's theories to the contrary, the special chapter "At the Ichiraku Ramen" implies that he is in fact quite handsome.
Though he reportedly has many hobbies, the one pastime most seen in the series is his reading of Icha Icha Paradise, the adult, probably pornographic novel authored by Jiraiya that is a runaway best seller. He reads this book when testing Naruto , Sasuke and Sakura. Later on, Kakashi is reading the second volume of the Icha Icha series, "Icha Icha Violence". Otherwise, Kakashi visits Konoha's memorial site, where the dead heroic ninja are remembered. In particular, he visits for Obito's sake.
Friends
Viewing 12 of 68 friends
Multimedia