About
Hi guys! It is sydney a.k.a angel!
I have an awesome bf named quan!
He is my boo and I love him lots!
Well there is alot about me but I will try not to bore you.
Well I am a almost 15 year old girl.
I love neon colors and black.
I can be the most random person EVER!
But that is only sometimes.
I love music and singing.
I am an amazing singer.
If your a hater then good, they make me famous.
I love to skateboard!
I finally learned how!
I LOVE skinny jeans.
I have alot of pairs in real life.
I am not like most girls and love to stand out.
I am who I am you can't change me.
I right storys and poems and songs.
I love my family and friends!
We will never break apart.
Somethings I can't stand are:
1.) My anoying brothers! (But I love them)
2.) Noobs that hit on me! Ugh!
3.) Anoying people! That is my job not yours!
4.) School! (We all have to go through it.. I think XP)
5.) That is pretty much it
If you wanna see a pic of my then just tell me!
Thank you for reading! Sorry if I made you bored. D:
Friends


this what i look like i changed my hair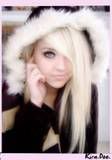 i changed my hair i look emo now =l