You and me, baby.
It's Lindsey Lunatic Lollipop Landslide Leprosy.
You Know You're In Love When You Can't Fall Asleep Because Reality Is Finally Better Than Your Dreams.

Comment me.
[x]
There's no picture of me yet! O:!
```
I whispered in her ear:
Fear me dear, for I am Death,
I'll take your hope, your dreams, your love,
Till there's nothing left

I whispered in her ear:
You better fear me dear, for I am Death,
And I'll take that s**t you call a life,
In a single ******** breath.
[For Stevie Wonders Eyes Only - Bring Me the Horizon]
```
TAKEN. <4
............
-I-N-V-A-L-I-D--K-I-N-G-

```BOUT ME```
Last Updated 8/19/09
name: Lindsey
nickname: Lindsey-Kate-Kate, Bart, Anything. xD
birthday: 10/30/93
hair: Brownish
eyes: Blueeee
any piercings? Nope, Wantone
any siblings? Heather (-theory of punk-), Tyler (Toaster Demon)
what do you like to wear? Clothes...? SKINNY JEANS.
book? It's always what I read last...
color? Yellow, green, bright stuff.
movie? Role Models, Superbad, funnycrap <3
place? My rooom with a phone or a computer xD
dessert? Mmm, dessert.
non-alcoholic drink? Rootbeer or VitaminWater
country? Uh. Idk. Japan.
animal? Llama
time of the day? 11:11
song at the moment? Show Me Yours - Breathe Carolina
friend? Er, Abby? Heather? Lol.
*worst*
place to be? In an awkward conversation.
day of the week? Monday.
song/music gender? Country/Rap
animal to you? Cockaroaches
drink? Beer.
food? Spinach lettuce stuff.
*have u ever...*
cheated: No.
been cheated on? Purty sure that's a no.
been in love? Yes.
stolen anything? A couple things.
been on stage? Uh-huh.
passed out? Once.
had a surgery? Mhm
broke the law intentionally? yupp.
had a friend pass away? Nope.
been lied? Sure.
been dumped? Yess.
*do you...*
do drugs? Nope.
get drunk?...No.
dance? Yeahhh.
party? Not really. No.
sing? Everyone can sing.
play an instrument? Uh-huh.
get along with your parents? Sure?
think you are attractive? No.
swear?Mhmm.
smoke? Noo.
get motion sickness? Hardly.
wear contacts/glasses? Only when I want to.
watch cartoon? With my sister.
write poems/stories? Stories yes, poems I fail at.
take a particular medicine?Abilify!
have a pet? Three.
are you allergic to something? Yes.
play an online rpg?Sometimes.
get online on msn a lot? When I'm not grounded.
google a lot? I google random things.
have fights? No, I hate fighting.
read magazines? Not really unless the headline is cool.
read comics? Manga, Yes.
how many hours do you sleep? 7-8.
get along with your teachers? No, they hate me.
*music*
What's your preferred genre of music? Rock, screamo.
What's your favorite radio station? 96.9, 99.3
rock? Yes.
blues/jazz? Jazz.
classical? Yes.
rap?No.
pop? Notrlly.
country? Fudge no.
emo/screamo?Emo no, screamo mhm.
heavy metal?Feh.
techno? Yesss.
reggae? Jamaican people have weird accents, so no.
r&b? some
*last...*
time you cried? This morning.
movie you watched? I forgot, but something retarded I'm sure.
person you talked on the phone? Dylan?
cigarette? Never, hell no.
song played? I Can't Do It Alone - 3OH!3
thing you ate? Cheerios.
time you took a bubble bath? When I was like five.
time you got drunk? No.
time you read a book? A day ago.
email you get? Fwd emails.
person you got a fight? NO.
time you hugged someone? Idfkk.
time you kissed someone?Last month? I don't remember.
time you met someone new? I can't remember.
time you went for a date? A while ago.
*do you believe in...*
God? Mhm.
religions? Let them believe what they want.
aliens? Sure, whatevv.
ghosts? Yeah.
afterlife? No.
yourself? Eh.
magic? Like stupid magicians? D;
*in a guy*
hair: Anything.
eyes: Pretty preferably, but it doesn't matter.
hobbies: Anything except like boxing or something violent D:
style of clothing: Sceneish or emoish or lolitaish.
kiss on first date? No.
love at first sight? Why not?
who do you wanna slap?Your mom.
who do you wanna kill? ANNIE NOVICKI
your dream: Uh, being happy? xD
do you want to get married? Mhmm.
love? Duhhh
i wanna be: I'm all good.
all you need is: Tacos.
identy yourself with 4 words: Random, GIRL, Uh.
what is your worst characteristic: Hypocrite sometimes.
what are your fears?Dying. CAN'T DIE YET.
what is your weakness? Talking to people when it's weiiird.
favourite quote? Si vis pacem, para bellum.
shoes you weared last time? Checkered slipons.
what is your aim for this year? Get good grades, DRIVE, get my own car. Idk.


```THEEND``

An' Cafe is amazing as hells. That is all.
A R T S S S`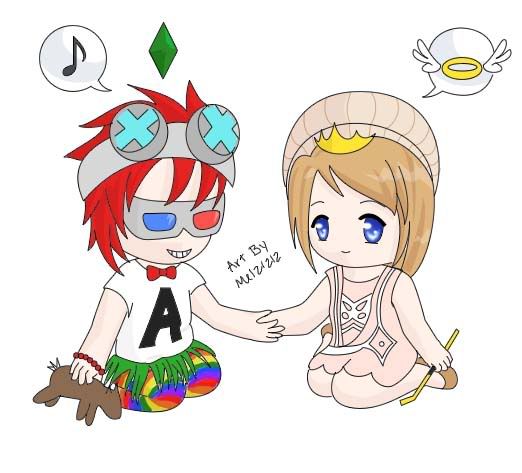 The art is still cute even though we're no moree.