About


A Canadian, Osama Bin Laden, and an American Biker are all walking down the road together (Don't ask why)

As they are walking, they stumble upon a magic lamp. They rub it and a genie pops out.

"Since you had freed me from the lamp, and there are three of you, ill grant you each ONE wish."

The Canadian speaks up.
"Well, I'm a farmer, and my son is a farmer, so i wish all the land in Canada was fertile and perfect for planting crops."

"Done," says the genie. He snaps his fingers, and the Canadian is sent back to Canada where all of the soil was suddenly made fertile.

"Me next," declares Osama.
"I wish that there was a huge, impenetrable wall around Iraq, so no infidels can invade my country."

"Done," says the genie. He snaps his fingers, and Osama is sent back to Iraq, where a huge impenetrable wall had suddenly appeared.

Now it was the bikers turn. He turns to the genie.
"Tell me about this wall Osama just wished for."

"Well," says the genie, " It's 5,000 feet high, 500 feet thick. There is no way anyone can get in, and no way anyone can get out."

The Biker leans back against his Harley, lights a cigarette, and says, "Fill it with water."
Multimedia
Signature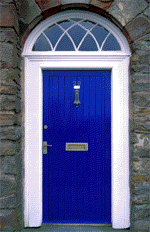 The Door is everything, All that once was and all that will be. The Door Controls Time and Space. Love and Death. The Door can see into you mind. The Door can see into your Soul. "Can The Door Really do all that?"........"Hehhe, Noo"