About
Very outgoing, <3
WHiiTE && lOviin iit♥
First breath = Aug. 26
"Believe nOne Of what uu hear && half Of what uu see"
Biirthplace=~iiREP661~ ♥Bakersfield,California♥
8th grader ; SEQUOiiA MiiDLE SKOoL ; class Of "O8''♥;
i dont depend on many peOple.
SAVED && LOVED BY JESUS♥
New Life Center ; Bakersfield
Mucho fam they cOme fiirst. read abOut mii nephews at bOttOm
mii nephews=mii liife♥
ii gOt 2 nd One On da way. =]
U don't want tO make me mad…trust me
Mii favOriites -->Swimming♥; cell; chiiliin; summertiime; partiies♥; musiic.
Hate-->smart asses; liiars; cheaters!
<3
muchO lOve♥
[1]
LaDy*A
dee''z babiiez are mii liife. yOu can take anything or anybody out of my liife, but all i knOw iis you better nOt take them. <3
camren [3]
anthony [2]
there's anOther One On the way. tOday he/she wiill be bOrn.
[02.01.08♥]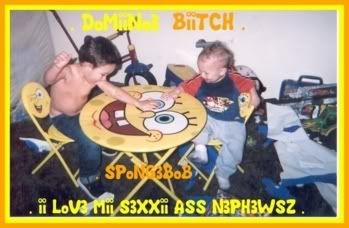 check Out mi kiSS card everyOne!
i dOnt really have as many kisses as everyOne else but it still is pretty gOOd fOr sOmeOne that just started gaia this year!
http://www.gaiaonline.com/event/valentines2008?action=kisscard&user_id=9585186
Journal
Mii BESTiiE'Z!
JUST A LiiL BiiT ABOUT Mii BESTiiES!!
Multimedia