About
I've been on Gaia since the begging and this was my second account, its the one that stuck. I'm a huge fan of this website and yeah there has been times where I wasn't around, but I always end up right back here for something new.
I have been a Jedi Master, Vampire Hunter, Gundam Pilot, and Pokemon Trainer. In my time on Gaia I have spent many hours with real life friends. I made many new friends while here, all of which are lovely people. I usually spend my times in guilds as role playing tends to be my most common activity here on Gaia. These days I tend to be more into Pokemon, something that never really left my life, I just was not as much into it.
In Real Life
I am a teacher with a Masters in Early Childhood Education and multiple teaching licenses. I live with Lillyness5 and our daughter. They are the loves of my life. I also run a music school in the evenings and weekends. I used to sing in a band and I can play guitar, bass, piano, accordion, and harmonica. I love to write music in my free time when I am not playing Pokemon. I have a cat, not that I wanted him, but I found him and I do love him, despite what I might say. I also have a pet tarantula that was a gift from students, he's pretty chill though.
In Gaian Life
I ran the second largest Star Wars guild for many years. It was a post NJO storyline that came out before the end of the NJO series. It was very fun and I spent a good three years there. I had a Gaia wife from that guild. This was our role play family.
This is our banner from our last "episode". It says 5, but its supposed to say Episode 6.
I ran the largest Gundam Guild on gaia. I have never seen a Gundam Guild that functions as well or has as many active members. It was a lot of fun and I miss it some times.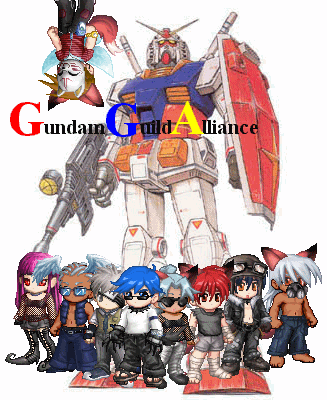 I also used to work at a Bar and Grill that was the only Jedi Bar and Grill at the time.
I also ran a role play that was a vampire/tech/steam freak/ magic/werewolf role play.

I now own an inactive Pokemon guild, but I plan to restart it and get it going again. I got it all set up, but then became very busy. I was planning on fixing that and redoing the guild, but I'd rather spend free time battling.