About
iM not Spoiledd;,
Yer just StuPid.!
The name ishh Samantha; Buh call me Samieh. iM crazee nd random.! But mostlyy crazyy. x]] i Luv meeting new people..; so FeeL free To hit Me up. ;]] i Guess yew can Say iM a Party GirL. Going to parties or Just chilling with besties Are my aLL TiMe FAV things To Do. c(= *!! And gaia ish like a Drug;, Drug. Yaa. Heard.!?
Dear 2009,, i Remember when:; Julie attacked me out of
nowhere.!! Ethan [With His Hunk Of Freaking HoTTness]
kissed me . . . ; And i Swear i Almost fuqing fainted.!! ;]]
When Drew walked aLL the Wayy to My place..; Just to
curse me out.!! When Jack wanted Me nd Jenn to moan.!?
W. T. F.!? x]].. Yesh.. i'll Miss 2009 ; But unTil i Figure out
How to rewind time,, 2010,, LooK OuT; Cus' here We Come.!!
Lls; Hugglez nd Kissy'ss.!! xoxo xoxo c(= *!
nd Here's the WhoRe behind The Magiq.! xx c(;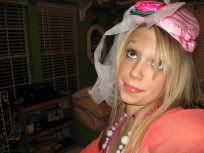 Comment This Whore.? 0.o
[x]
My Story ; nd Hacks.!! >;]]
[x]
Friends
Viewing 8 of 8 friends
Journal
Who Cares ; iM Boredd. xx
[x] [x] [x] [x]
[x] [x] [x] [x]
Multimedia