About
Name: Elizabeth.
Age: Find out for your self.
Likes: Friends~<3,

Drawing


Dosen' t like: Mean people T.T, People who hurt me, or my friends.
Anime: Bleach, Naruto, Vampire Knight, Inuyasha, Shugo Chara, Code Geass, Tears To Tiara.
Manga: : Sand Chronicles, Kiss/Hug, Faster Then A Kiss, Asu no Yoichi.
Dreams : Maybe if you knew me you would know.
Favorite bands: Owl City, Secondhand Serenade, Never Shout Never, Boyce Avenue, and Nickelback.

smile

Written by me; The way I am.
Wishing you would come and take me off my feet with one swift lift. Taking to me elsewhere, where I could live in happiness with you. Take my hand, we can go anywhere you would like, I just want to feel this way forever. Head over heels in love, not caring how or where we are going, just that it's us, and only us. Give me some kind of reason to keep loving you the way I am. I always want to feel safe in your arms, never letting me go. Just let me stay with you, in your arms, Happily falling asleep to another dream of you. All I ever wanted was someone like you to keep me safe, but most of all love me because it's me.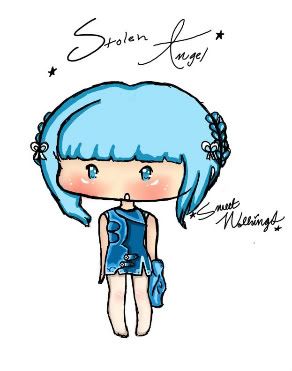 Avi art by -I- Sweet Nothings -I- (Jazmine :'D) Shes awesome. .-.

ABORTION IS WRONG MONTH ONE: Mommy, I am only 4 inches long, but I have all my organs. I love the sound of your voice. The sound of your heart beat is my favorite lullaby. MONTH TWO: Mommy, Today I learned how to suck my thumb. If you could see me, you could definitely tell that I am a baby. I'm not big enough to survive outside my home, though. It is so nice and warm in here. MONTH THREE: You know what, Mommy? I'm a boy!! I hope that makes you happy. I always want you to be happy. I don't like it when you cry. You sound so sad. It makes me sad, too, and I cry with you even though you can't hear me. MONTH FOUR: Mommy, my hair is starting to grow. It is very short and fine, but I will have a lot of it. I spend a lot of my time exercising. I can turn my head and curl my fingers and toes and stretch my arms and legs. I am becoming quite good at it, too. MONTH FIVE: You went to the doctor today. Mommy, he lied to you. He said that I'm not a baby. I am a baby, Mommy... your baby. I think and feel. Mommy, what's abortion? MONTH SIX: I can hear that doctor again. I don't like him. He seems cold and heartless. Something is intruding my home. The doctor called it a needle. Mommy what is it? It burns! Please make him stop! I can't get away from it! Mommy! HELP me! MONTH SEVEN Mommy, I am okay. I am in Jesus' arms. He is holding me. He told me about abortion. Why didn't you want me, Mommy? EVERY ABORTION IS JUST... One more heart that was stopped. Two more eyes that will never see. Two more hands that will never touch. Two more legs that will never run. One more mouth that will never speak. If you're against abortion, put this in your profile...please do it

Missing someone
Is a part of loving them,
If you're never apart,
Then you'll never know
How strong your love really is..

There once lived a girl who thought she
couldn't be loved by anyone.
She truly wanted love.
She wanted someone who could love not
only her, but her at her worst.
But she was hopeless.
No one seemed to love her like she loved
them.
That's when she gave up on love.
Became very sad and lonely.
Became very mad at people who had nothing
to do with her.
To her surprise someone cared.
Someone loved her and she loved them back.
She became very happy.
She started to trust..
She started to love again..

Kiss on the cheek- We're friends.
Kiss on the stomach- I'm ready.
Kiss on the forehead- I want to be with you for
the rest of my life.
Kiss on the hand- I adore you.
Kiss on the neck- I want you, now.
Kiss on the ear- Just playing around.
Kiss on the shoulder- Your perfect.
Kiss on the lips- I love you.
Playing around with your hair- Can't live with out you.
Holding hands- We definitely like each other.
Arms around the waist- I like you too much to let go.
Holding you tight pressed against each other- I want you.
Laughing while kissing- I am completely comfortable with you.
Hug- I care, a lot.
Touching on the butt- Your mine.
Looking into each others eyes- I like you, for who you are.
Smiling at each other- I like you.
Wink- Flirtation.
Looking around- Hiding true feelings.
Tender kisses on the side of the lips- I want you to smile.
Wetting your lips- Waiting for a kiss.
Teardrops- I'm losing you.
Cries- I lost you.
Advice: If you were thinking about someone while reading
this, your definitely in love.
If you Like, Love, or Miss someone right now and can't get
them out of your mind. Put this on your profile.
90% of teens/preteens would breakdown if Justin Beiber was about to jump off a 6 story building. 10% of them would grab a lawn chair, some popcorn and watch. I am the part of the 10% that would run up and push him off saying "Sorry you took too long!"