About
http://gaiatools.com/johari?name=Enyo
Hello everyone. Well, I'm Megan but I'd prefer if you called me Jean. Yes, it's my middle name and I hate the name Megan. If you know xX-Soul-Of-The-Angels-Xx, StrawberrySoul, Or Soul_Reaper_Byakyuya. You know me. I changed accounts, So if you happen to stumble upon this PM if you want to still be friends. If not, F-you. Anyways, go on and read about me.
What Megan Jean Means
M is for Marvelous
E is for Energetic
G is for Godlike
A is for Astounding
N is for Nervy
J is for Jumpy
E is for Envious
A is for Awesome
N is for Naive
What Does Your Name Mean?
I like Anime, Manga, Reading, and Writing.
My favorite Anime's are Inuyasha, DNAngel, Death Note, And Bleach. My favorite Manga's are Wish, DNAngel, From far away, and some Yaoi's. I usually read Manga, of course, Romances, Suspense, Action, and Comedy. I haven't actually started writing anything that would be come something yet. But I do write poems. I have one on my other account If you wan't to read it. I'll post it up here later. I guess. I have more that I'll also post later.
Also I hope to make an Anime/Manga series. I'm not going to post what it'll be about yet, cause of my trust issues. I don't want anyone to steal my ideas. But I'll give you the gist. Eh, What do I care anymore. Summary Time!
:Summary:
When a girl loses her clan, how does she survive? Struck with amnesia, she can't remember anything. When she falls in love with, who she thinks is, an ordinary villager, what happens when he has a terrible secret to hide? One that would possibly cost him his life. When he finds out what she is, and she doesn't even know, How does he tell her? And without getting them both killed? But when he's driven out by the villages when they find out, What'll he do to see the woman he loves, Without getting them both killed? And when he asks her to run away with him, what will she do?
Wow, I had fun writing that summary. I'm not sure if I should make it into a book or a manga. I want it to be an Anime/Manga thing, but if that doesn't work out, a book would be just fine. If I do decide to make it a Manga, I wouldn't be the one drawing. I mean I'm good but not that good. I'd prolly have my older sister do it. You should really see her drawings. She's amazing. She everything I'm not, Beautiful, Smart, AND talented. Well I'm sorta talented so that one is only half-half. Lol. So what so you guys think of it. I'd really love some feed back. And maybe some character names. What they might look like. Stuff like that. I'd really appreciate it. Thanks.
Please do not steal my idea. I love how this story sounds and I would be honored to write it for you guys. So please don't steal my idea. I have trust issues already, Don't make them worse. Please and thank you.
I also draw, Mostly Anime characters, But I draw none the less.
Sometimes Chibi. >w< Chibi's cute. Again I have some of my pics I drew posted on my other account. I'll have it on here as soon as possible. I guess. I'm not sure if I should post it ON my profile or IN journal entries.
I made my own profile. Hot, isn't it? Well I've also made my brothers profile. Cloud2007_rulez. Check his out too. It's awesome. I'm thinking about making profiles and selling them. I doubt I'll sell them though. I might just make them for free. But If you do want to pay me I won't stop you. And If you don't like it I'll give you your money back. And you can do whatever you want with the profile. Keep it, Give it away, Just don't delete. If your not going keep it or give it away. Could you PLEASE send it back to me. Someone else may want it. Please and thank you. If your interested PM, or comment, (I prefer PM's) me saying what you would like your profile about, what colors you want your profile to be, 3-5 colors please. And stuff like that.
Ok, I didn't wanna do this but, I'm gonna put my picture up here. Don't laugh. I know I wasn't looking at the camera. I was checking out the boy next to me. xD So I lied. But I was looking at his computer. Oh, And this is at my school. Computer lab to be exact. And the awesome computers that have the cameras on them. >< I want one. Anyways, this is me. :/ Me and the new awesome hair cut I got on Monday. >w< Marvel at what is my hair. Random moment. o.o Continue. xD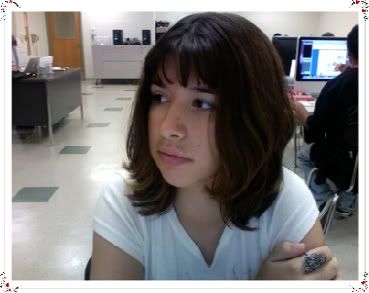 ~Eighteen Ways To Tell Your In Love~
[EIGHTEEN]
you get so jealous when someone comment them saying they are cute
[SEVENTEEN]
You look at their profile constantly
[SIXTEEN]
When you're on the phone with them late at night and they hang up, you still miss them even when it was just two minutes ago
[FIFTEEN]
You read their Texts and Ims Over and over again
[FOURTEEN]
You walk really slow when you're with them
[THIRTEEN]
You feel shy whenever they're around
[ELEVEN]
When you think about them, your heart beats faster but slower at the same time
[TEN]
You smile when you hear their voice
[NINE]
When you look at them, you can't see the other people around you, you just see him/her
[EIGHT]
You start listening to slow songs while thinking about them
[SEVEN]
They're all you think about
[SIX]
You get high just from their scent
[FIVE]
You realize you're always smiling when you're looking at them
[FOUR]
You would do anything for them!
[THREE]
You blush when u hear their name
[TWO]
You were so busy thinking about that person, you didnt notice number twelve was missing
[ONE]
You just scrolled up to check & are now silently laughing at yourself
I thought this was cute and, guiltily, it caught me so I decided to post in onto my profile. It made me think of someone I care about a lot and I really want to see him right now. So if your in love or if you were caught by this, or not, help spread the love by posting this on your profile. :]
Dream Avi time.
~Zelda~
(I found this on tektek and thought I was amazing. It's made by Ana Cross, All credit goes to he/she/it. You never know. Lol.)
Total Value: 728,610 Gold
[Item Information]
Item List:
Enchanted Book 10th Gen.
Ancient Katana
Classic Record Earrings
Felicia's Gloves
Magical Girl's Lovely Heart Gloves
Mythrill Armor
Mythrill Armor
Blush Taj Top
Sapphire Milady Surcoat
Mythrill Armor
White Flow Prom Dress
Alice's Brown Boots
Elven Ears
~Link~
(Made by me.)
Total Value: 47,710 Gold
[Item Information]
Item List:
Elven Ears (Tone B)
Year One Soldier's Sword
Pora Ice
Green Sleeping Cap
Blade's Brown Boots
Elegant Snowy Leggings
Blade Of The Sacred Forest's Tunic
White Wool Top
Spartan Gloves
So Cute huh? Lol.
Friends
Viewing 12 of 21 friends
Multimedia