About
Yeah I tend to disappear and reappear at the oddest times. ninja


IF YOU'RE BORED go ahead and read.
Year: Snake

Some tiny random facts/interests: I use to be an awesome ASCII artist + combine it with HTML color/size codes, if you don't know what that is too bad. I like using chopsticks. I could live on pizza. Moonlight Sonata is the most amazing classical song of all time IMO. The only everyday accessory I wear is earrings. I LIKE wearing skirts(not minis)- the breeze feels nice har har. I'm a movie buff, I can watch the same movie over and over if I like it.

Coke or Pepsi: Coke
Water or Milk: Milk
Cat or Dog: Cat
Move or Music: Movie
Favorite trait in other people: Comedy. If you can make me laugh, I love you forever.

My home forum: GD
My whore catagory: Quote Whore. I like being quoted, gotta love my whoreness.
My materialistic view: Personally, I like looking poor. XD Even weird, that's why I love my avi looking like this.
Goal on Gaia: To keep GD light-hearted, and to scare as many people as possible by invading their personal space.

Damn, I don't see why someone would read all that s**t about me. X3

Oh oh and I just got a sign! Behold: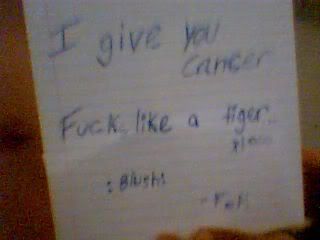 This is from Full of Rabies and I'm lucky enough to almost get a shot of his n****e in the corner. biggrin heart
Friends
Viewing 12 of 32 friends
Journal
I grow on you. biggrin
This is the place to come when you have nothing better to do.
Multimedia
Signature
Do you like my a** vibrator?