About
Birthdate: December 20
Height: 133 cm (4'4&quot
wink
Weight: 28 kg (62 lbs)
Gender: Male
Species: Shinigami
Partner: Rangiku Matsumoto
Affiliation: Soul Society
Team: 10th Division
Occupation: Captain of the 10th Division
Zanpakutō: Hyōrinmaru
Hitsugaya's early life was spent in Junrinan, District 1 of Rukongai. There he lived with his grandmother and Momo Hinamori. As a child, Hitsugaya had an icy demeanor that estranged himself from others, with the exception of his grandmother and Hinamori. The three were very close, and Hitsugaya was irritated when Hinamori left to join the Soul Society academy. Throughout his childhood, he was always aware of what seemed to be an icy presence within himself and had continuous dreams about a plane of ice. Five years after Hinamori's departure, Hitsugaya encountered Rangiku Matsumoto, then a normal, unranked Soul Society, in a marketplace, when she stood up to a merchant who left his change on the counter, rather than handing it to him.
That night, Hitsugaya dreamt again of the icy plain and finally met Hyōrinmaru for the first time, though he could not hear the spirit's name. He woke up to find Rangiku admonishing him for not being able to control his power, which had been freezing his grandmother. She told him that power like his needed to be controlled, and convinced him to become a Soul Reaper.With Hitsugaya's natural talent, he entered the Soul Society academy in spite of his age and became known as a prodigy, quickly ascending to captain of the 10th Division, ironically making him Rangiku's superior.
Toshiro Hitsugaya is very young by Soul Society standards. Born in Rukongai,he became the youngest ever to reach captain rank. Thus, he is called a "boy genius" or a "child prodigy" by many. Hitsugaya is generally mature and serious, in contrast to his free-spirited lieutenant, Rangiku Matsumoto, although he can sometimes be short-tempered and irritable. Despite their personality differences, he and Matsumoto seem to be very close. Hitsugaya is shown to also be easily irked by others goofing off or drawing unneeded attention to themselves, as shown when he led a team of Soul Reapers (comprised of himself, Matsumoto, Renji Abarai, Ikkaku Madarame and Yumichika Ayasegawa) into Ichigo Kurosaki's school. He hates anything that he deems childish and hates being described as something close to a child, evident in a filler episode when he meets Ichigo's sister, Karin, who pats him over the head further angering him. This is also shown more in the omake chapters, where he is repeatedly mistaken for a child, much to his annoyance.
Hitsugaya's intuition is extremely sharp, and he is the first person to correctly suspect Gin Ichimaru of foul play, though he understandably did not suspect Sōsuke Aizen of the same. He is very protective of Momo Hinamori, due to the fact that they were old childhood friends, promising to kill those who harm her.
A running gag is Hitsugaya getting annoyed when anyone refers to him by anything other than his title, "Captain Hitsugaya" . Hinamori has called him by "Toshiro," ("Hitsugaya-kun" in the Japanese manga and anime) and both she and Ukitake have occasionally used "Little Shiro" ) a nickname meaning "Whitey" (Snowy in the English manga) in reference to his hair in both cases without repercussion, however. In the Shinigami Golden Picture Book sketches (omakes found at the end of episodes of Bleach), Jushiro Ukitake comically gives Hitsugaya candy and other food like watermelon which there are certain amounts of flashbacks towards because "Jushiro" and "Toshiro sound similar and because they both have white hair, making them both "Shiro-chan."
Avi Art: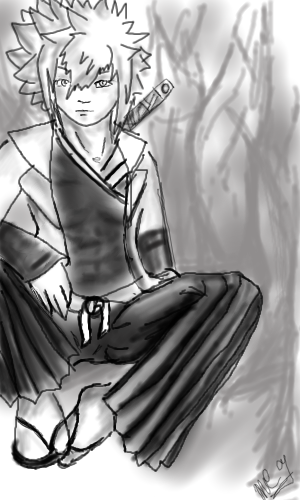 Artist : Just Mo
Yum yum
Artist: Alley
SIGNS!:
By: Disfu-error-nction
Donations!! <3:
Item Donator
1. Nihonzaru - KitsunesSpirit