About
Well personally I don't have to much to say about myself or have a great opinion of myself so I don't think I can make an about me that's any good unless I could say draw a lightning bear having a guitar battle with a unicorn made of fire, but I can't so I won't, but I should get somebody to draw it for me.
So to give a less biased view I've drafted in a couple of friends to see what they think of me such as Oceon Ezriah:
Holy Slayer is "teh awesome gent."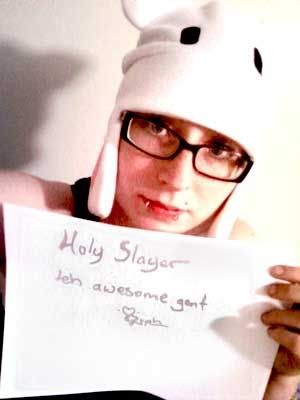 If I were asked to describe
Holy Slayer
, here are some things I would say:
He is very
s
h
aring
.
Anything he has, he will share with those he cares about.
He can be very
c
o
vert
.
By this I mean that he is tricky, and it can be difficult to get him to actually talk about himself.
He's very
l
oving
and is always focusing on the feelings and needs of others.
By no means is he always serious;
he does like to joke around and be
goof
y
.
He is
s
elfless
, and is always looking to help others if he can.
He's
l
iterate
– he's not a n00b, yo.
He is
pe
a
ceful
.
He's quite
unt
y
pical
if you ask me. I don't think I've ever met anyone like him.
His friendship is
p
e
rpetual
.
Once you've made a connection with him, he doesn't just forget about you.
Whether he wants to admit it or not, he's very
r
omantic
And if you don't believe her heres Danger Woman:
"Some call me Slayarrgghhhhh...but my name is Nicholas. I hail from Britishland. Even though I won't ever admit it---I'm quite flipping awesome. I'm crazy intelligent and I will make you literal lol right out of your flipping pants. Also, inspiration for my avatar was fueled by 1,000 baby souls...and that is how badass I am. Just sayin'."

So yeah according to those two I'm great, personally I don't think so but I'll let you judge that yourself and who am I to argue with arguements as persuasive as the ones above?