INFORMATION ABOUT STUFF CONCERNING ME.
Real Name: Lisa.
Age: Old. No really. Chances are I'm older than you.
Height: 5 feet exactly.
Weight: No Comment.
Favorite Colors: Blue and Purple!
What You Can Call Me Here On Gaia: Hiromi, Romi, Omi or Hiro

Likes: Several Animes & Mangas (proof below), Writing Fan Fictions, Playing Video Games (Harvest Moon, Pokemon, Final Fantasy and More), Doodling (If you can even call it that), Doctor Who, Boston Bruins, Boston Red Sox and Broccoli (No, really, I love the stuff)

Dislikes: Those "I think I'm better than you therefore you suck." jerks, spiders, squash, airplanes, people who tell me a sports team I like sucks even if they won the World Series or made it to the NHL playoffs, New York Yankees & their fans, Montreal Canadiens and their fans too! OH! And Jaromir Jagr! OHHH!! And Hannah Montana/Miley Cyrus... *plugs ears*

~Romi <3's Ian~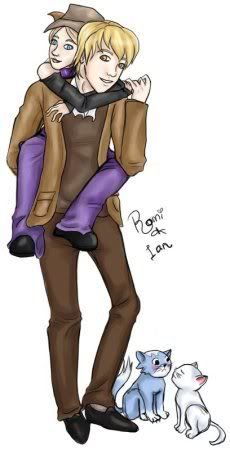 More Romi & NPC Art~! <333
There's Always Time For Dancey Dancey!! By: Shawana_Chou
No More Monsters Under The Bed! By: Lan-neko/RLM
Such Cute Cheeks! By: saya_parker
Romi and Ian: THE ONLY OTP! By: counting pulses
Staff Sharing and OMFG RUFUS HAS FLOWERS! By: EvFaerAshlynn
Ian doesn't like Liam flirting with his girl. By: Shawana_Chou
Happy Huggles! By: Fallen Angel Link
Love is in the air! By: Shawana_Chou
Come along now, Ian! By: saya_parker
LOGAN! Stay out of my closet!! By: Ame Za Rain
Romi tries not to get a nosebleed. By: EvFaerAshlynn
(All silly titles thought up by Romi! >w< )

A Romi & Ian Haiku. By: Junespider
Romi and Ian
How their love quickly blossomed
When will he propose?


Yeah, that's right. I'm a Bruins fangirl. I'll taunt your goalie. >D
2011 Stanley Cup Champions! That's right! We are the CHAMPIONS!






My Manga Collection:


Angelic Layer (complete)
Beast Master (complete)
Beyond the Beyond (volumes 1-3... Series was discontinued)
Bloody Kiss (complete)
Cherry Juice (Volume 1)
Dazzle (volumes 1-8 )
Dengeki Daisy (Volumes 1-3)
D.N. Angel (volumes 1-10)
Fairy Tail (Volumes 1 &2)
Fruits Basket (complete) T~T
Fushigi Yugi (Volumes 1-3)
Gravitation (volumes 1-5)
Inuyasha (volumes 1-15)
Loveless (volumes 1&2)
Maid-sama! (volume 1 & 2)
MeruPuri (complete)
Millennium Snow (complete)
Otomen (volume 1-4)
Ouran High School Host Club (volumes 1-11)
Pita-Ten (complete)
Pretear (complete)
Sailor Moon (volume 1-7)
Tsubasa: Reservoir Chronicles (volumes 1-11)
Tokyo Mew Mew (complete)


My Anime Collection: DVD


Black Blood Brothers (complete series)
Chrono Crusade (complete series)
Digimon The Movie (movie)
D.Gray-Man (season one)
D.N. Angel (complete series)
Fruits Basket (complete series)
Fullmetal Alchemist- The Sacred Star of Milos (movie)
Gravitation (complete series)
Hetalia- Axis Powers (complete series)
Highschool of the Dead (first season? Hoping for more... )
Howl's Moving Castle (movie)
My Neighbor Totoro (movie)
Oblivion Island: Haruka and the Magic Mirror (movie)
Ouran High School Host Club (complete series)
Paprika (movie)
Ponyo (movie)
Pretear (complete series)
Prince of Tennis (1st season boxset?)
The Secret World of Arriety (movie)
Summer Wars (movie)
Tsubasa: Reservoir Chronicles (seasons 1 & 2)



Manga I'm reading/have completed online:

1/3 no Kareshi (completed)
7th Period is a Secret (completed)
24 Colors (completed and adored it)
AAA (reading)
Absolute Boyfriend (completed)
Akagami no Shirayukihime (reading)
Alice 19th (completed)
Appare Jipangu! (completed)
Bokutachi wa Shitte Shimatta (completed)
Captive Heart (reading)
Cardcaptor Sakura (reading)
Cherry Juice (completed)
Dakishimete Noir (completed)
Dear School Gang Leader (reading)
Enren Debut (completed)
Fairy Cube (completed)
Faster than A Kiss (reading)
Gintama (reading)
Heart no Kuni no Alice (completed)
Hoshi wa Utau (reading)
Imadoki (completed)
I Won't Let You Become A Star (completed and LOVED)
Koi, Hirari (completed)
Koukou Debut (completed)
La Corda D'oro (reading)
Magic Tower Pass (completed)
Magico (So cute!)
Otokomae Beads Club (completed)
Otome Gokoro (completed)
Prince of Tennis (reading)
Princess Resurrection (reading)
Rave (reading)
Saboten no Himitsu (completed and LOVED)
Shinigami Lovers (completed)
Shugo Chara (reading)
The Melancholy of Haruhi Suzumiya (reading)
Trusty Bell- Chopin no Yume (completed)
Vampire Knight (reading)
WANTED (completed)
Watashi Ni XX Shinasai! (reading)
Yotsubato! (reading and ADORING... So silly!)
You're My Girlfriend (completed)
Zettai Heiwa Daisakusen (reading)