About
There Isn't much to know about me, I'm Heather
I'm an artist, I love talking and helping others. I absolutely find it wonderful to be there for someone who needs me (:
About my Gaia, Yeah, I've used it for years, but haven't in about a year or so.. So, I'm back to being a noob yea? Oh well (:
I love doing requests in art for people, but I'm a bit of a procrastinator.. To the RIGHT of my page (------&gt
wink
Is a collection of some of my artwork. I may or may not add more later on (: I don't know<3.
If you have questions, Pm/Comment, whatever me (: I'll answer.. Unless they're grotesque, Impolite, sexist and such.
sweatdrop
I don't really know what else to say now, so.. Here's a link to my deviantArt account!
biggrin
If you want to know more but scared to ask, you'll definitely find information there!!!
http://afractiousdream.deviantart.com/
Uhh... Let's see..
I'm in love with Alice In Wonderland, and not the first gen alice.. I love the newer stuff, Especially the American McGee's Alice, and Alice: Madness Returns. I love the games, love the plot, and everything about alice in wonderland. Yeah, It's basically an acid trip gone right, but who cares? It's a great story
biggrin
I think It owuld be fun to be in her shoes.. But, Also, I am working on an Alice In Wonderland Series in art.. So..
biggrin
Woopwoop. Alice is a nickname given to me by a few, as well haha (:
Uhhh.... OMG RAINBOWS?
I think it's time for random rainbow pictures now..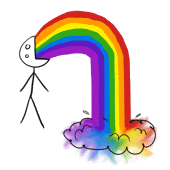 Sorry for the last one if you disapprove of it. But, I LOVE it. I think It's awesome (: