About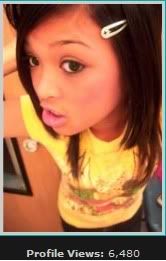 Hey. Im Micah.
shoutout to ChelSkiii-mah homie G
aim:SanrioLov.
I am unobservant, non-circumspect,
lack common sense, have the reflexes of a dead fish.

i keep a distance from
haters
i youtube for a laugh or two-artistangel1
i lovieeee photography & music
i have the most amazing cousin chelsie(:
12yrs youngin; first saw this trickedd out world in august 12
More than words are just simply mine<3
kbye<3
xmicah
Music: Only one
Artist:Cherish
ohh my! addmeonMYSPACE
myspace.url:cooliesfreakster

Friends
Viewing 12 of 47 friends
Journal
RAWRAND0M
GAAHH! You reached an error. Go Back to HeartScenex3's profile. Comment or Message Please :]
Skateboard. Art. Tv. Computer. Internet. HardCore. Pencils. Fashion. Candy. Besties. Insanity. Black.
Multimedia
Signature
Im Micah(:
good at art? draw me a pic.
Joined Since: 01.26.07<3