About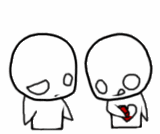 I AM
E - very
V - illain
I - s
L - emon

I WATCH ANIMES LIKE KENICHI , DEVIL MAY CRY , BLEACH , NARUTO SHIPPUUDEN , DEATH NOTE , TENJOU TENGE and a lot more on COMPUTER!
Friends
Viewing 12 of 63 friends
Journal
Time
Time Lost is Never Found Again and then He was like RAWR!!
Multimedia