Happy Pantherlily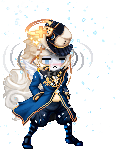 About
ALI Godsend <- old username
Kumusta?
Nickname is Ali. 19. Philippines. Currently an unemployed citizen. Just graduated. Dancer. Noob Guitarist. Noob Drummer xD. Amateur Graphic Artist. Has astraphobia/astrapophobia. Fairy Tail and One Piece addict.
★★★★★
LIKES:
ANIME & MANGA. Arts. Heroes
(TV Series)
. The Walking Dead
(TV Series)
. Nice People. Role Playing Games (RPGs). Drums ♥. Gaia Online. HARDCORE, metal, rock music. SLASHER FILMS 8D. some KOREAN COMEDY-DRAMAs. digital editing. photography. DOMO-kun ♥. DRAGONS ♥
AYE~!
DeviantArt:
[xxx]
★★★★★

Pinoy IWON Clan
Quest Thread: Ali in Wonderland
Profile Shop of the awesome Halui
Multimedia
Signature