About
Duh
xd
I had planned to be a crazy cat lady or an actress when I was younger but after going to Uni and deciding I'm not actually all that keen on acting (at least not whatever my uni made me do) the crazy cat lady route looked like the winner, however I recently got married (yay being a wife) and my new husband has decided he would rather be the crazy religious couple...we shall have to wait and see whos crazy wins overall...
I don't wear make-up very often, only when i'm going out or doing a performance
I don't like to read, it bores me. However I did read one book once, it was about a dragon, It was sad because the dragon died...
I started to read Harry Potter once too, but I got bored after the first page and stopped.
I did read the trilogy of The Hunger Games and I LOVED it
I like hanging out with friends and having as few drinks.
I don't do, and never have done, drugs, they are pointless and my uncle is not very well because of them.
I like cats which I'm sure you guessed, love panthers, and roller coasters.
I want to jump out of a plane and off a bridge or cliff, would be fun, scary but fun.
I have a fair share of blonde moments, my sister once told me that a boy in my year at school had fallen out of a third floor window that school and that was why he hadn't been at school recently (she knew this because they were in the same form class). I believed her until he turned up at school a week or so later having just been on holiday...I had even told people he had fallen out the window and they all appeared to have known the truth and just been messing with me...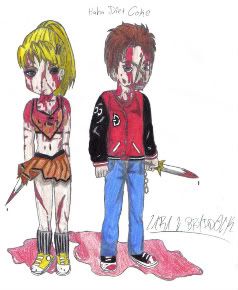 Friends
Viewing 12 of 60 friends
Signature