About
My Tumblr
|
RP Tumblr
|
FAQs
About the Muse Name:
Rocket
Origin:
Halfworld
Species:
Illegal cybernetic/genetic experiment
Skills:
Expert marksman, pilot, tactical planner
Profession:
Bounty Hunter / Guardian of the Galaxy
Enhancements:
Cybernetic skeletal structure, enhanced phalange and metacarpal bones, genetically augmented cerebral cortex
Criminal Record:
Vehicle theft, escape from incarceration, mercenary activities, arson
This is an active Roleplay account! I am really into Marvel and like to draw. I run the guild The Milano with some of the other RPers and as of now I do most of my RPs on Tumblr, which are linked above!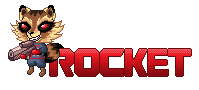 Journal
Rocket's Debrief Log
Rocket's Debrief Log
Does this chair go up any higher?
Multimedia