The Senshi
About the Senshi
Sailor Name:
Sailor Nerine
Transformation Phrase:
Aqua does not have a transformation phrase. She can transform without one.
Transformation:
Forms
:
Normal Form:
Her Two Warrior Forms:
and
Eternal Form:
Symbol: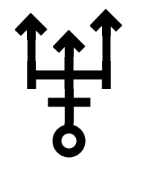 Colors:
Blue, white and gold
Weapons:
A weapon she calls Tsunami. It tends to be in the form of a trident, but can change into two different types of swords, and a staff.
Attacks:
Deep Tsunami Wave
Storming Rain
( all for now >.&lt
wink