About
It's just an otaku, for roleplay ok? Chill.
3nodding
Suzuka Meioh


The oldest child of the legendary Sailor Pluto and the former amazon trio member Tigers Eye.

I am the senshi of Radiance and Destiny.

Im an Impossibly Beautiful, (dont stare too long, might hurt your eyes.) Fashionable young woman who is now a beauty queen and accomplished model.

I love shopping, gymnastics, and in school I used to beat all the boys in Kendo Club. I'm tough and strong, so don't cross me or you'll find yourself with a smile on your a**. :3 Other than that, Im a sweet person and a good friend so feel free to talk to me, ok? 3nodding


I'm also a heartbreaker. So *ahem* boys...feel free to give me yours. I promise it'll get shattered.
Because I'm worth it. wink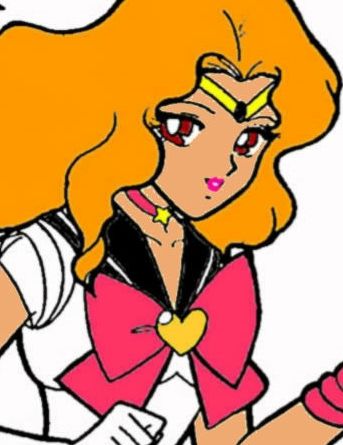 Full Name: Suzuka Lucretia Meioh
Senshi: Neo Sailor Pluto
Aliases: Princess of Pluto, Tigress of Pluto
Status: Princess Suzuka
Occupations: Sailor Scout, Princess, Animagis
Name Pronounced: Soo-Zoo-Kuh
Nickname: Su-zu, Suzuka-chan, Small Lady Tiger, Tiger Cub, Suzie, Tiger-Kitten.
Hair Color: Flame Gold
Eye Color: Deep Red
Skin Color: tan
Age: 18
Height: 6'0
Favorite color: Rose Pink
Gemstone: Black Onyx
Birthday: November 1st
Astro Sign: Scorpio
Blood Type: A
Hobby: Modeling, Kendo Club, Gymnastics
Favorite Pastime: Shopping!
Favorite food: Onigiri and ice cream!
Least favorite food: Ikayaki (squid...blech >.&lt wink
Best subject: Gym
Worst subject: None
Strengths: beautiful, loving, outgoing, super-strong.
Weaknesses: impatient, vain, blunt
Dream: To be a fashion supermodel
Orientation: Straight
Relationship status: Heartbreaker
Past Boyfriends: Renzo, Kureno, Rayce, Ace, and Laertes.
Henshin: Same as Sailor Pluto, only the bows are Rose Pink.
Catchphrase: "I am the Soldier of Radiance and Destiny! Don't cross me, or risk awakening the beast inside!"
Attacks: Roaring Hurricane, Slow Time, Speed Time, Cherry Boom Barge, Ticking Garnet Bomb.
Transformations: Neo Sailor Pluto and Tigress Form
Item/Weapon: The Garnet Sledgeblade.

heart

Personality: Wanna know about me? Yeah? I'll tell you. I was born during a war, so I like loud noises, environments, and explosions. I'm smart too. Sharp as a whip and twice as likely to leave a big, nasty scar. The war I was born during? Ask me about the Charon Crisis sometime. I'll tell you all about it. I love shoes above all else. But take it from me. Shoes that are made for walking are never the cute shoes. I have a pretty sharp mind and I got good marks in school. Its too bad I don't want to go down the science-y road. Too boring unless you are blowing stuff up.